With Dutch legends Martyr releasing a new album entitled "You Are Next", metalzone.gr took a chance to talk with Martyr guitarist Rick Bouwman about the glorious past, the exciting present and the promising future of Martyr.
•    Welcome to Metalzone Rick, great to have you. "You Are Next" is in stores since March 29th and also available a lot earlier to the music press. Do you already have any feedback about it from the press and the fans?
•    Thanks . Yes we have and wow, it is really amazing. In January we released the video for the openings track called "Into The Darkest Of All Realms" where we invited our fans to bang along while shooting the clip. So that was the very first time they heard it and yeah, they loved it immediately. , In fact the clip was already a sort of preview for the fans and press when it was released and showed what the album would sound like. Amazing responses followed since the clip release. Then the press release followed and we received immediately multiple excellent reviews and response from all over the world.  And also the fans responded pretty overwhelming and enthusiastic. "You Are Next" is a tight album and I think heavier than what we made before. It is also has a lot of variety but still the songs are all part of a steady unity on this new record. We were already convinced of that but when you release it to the rest of the world it is always exciting to experience what they think about it as well and go along with the intentions of this new album  . But yes it has been GREAT so far !!
•    How long have you been preparing about this album? Was it a slow process or it just came a time that you all said "let's get down and start writing down our ideas"?
•     It took us 2,5 years to make this album. Rop (vocals) and I mainly wrote the songs, composing it in my small home studio doing the arrangements by recording guitars and adding drum loops. That set the basic for the songs or the skeleton so to say. So we could present the feel as we wanted the songs to have to the band. The others then filled in their own parts mainly without losing that feel, which we thought these songs needed. Early 2014 we entered the studio (Jack's Place) where we  did 2 pre productions. Mainly to judge the way of how we wanted to record the album  and  determine if the material was of the quality standard we wanted them to be or needed re-arrangements. After that we started the recording process and were in the studio till August 2015. Mixing and mastering continued till December 2015. Our producer Jack Nobelen gave us all the time we needed and did an amazing job!! 

•    The album sounds almost surprisingly fresh, especially for someone who didn't catch up with "Circle Of 8" back in 2011. How easy was it for you to evolve your sound in that direction? Does this mean that you are constantly listening to new music?
•    It went natural. You know, we always write from the heart. We want to write the song we would like to hear ourselves first and stand behind it not 100% but 200%. We wanted this album to be another step forward in our career also compared to Circle Of 8. You know, standing still is going backwards as they say. But remember, we gave this new record a lot of attention and a lot of time to pursue the quality we wanted to achieve. I think you can hear that.  Of course we do listen to new music, but also don't forget where we come from. 
•    You have also released a video clip for the album's first single "Into The Darkest Of All Realms". Are you happy with the final result? 
•    Hell Yeah , even better then we hoped for. It is an easy concept actually , we are just doing what we do best and same time be close to the fans. So we invited around 70 fans to bang their heads with us in the rehearsal room, being around us, and we being amongst them. It was such a great video shoot with so much fun. In fact we captured the way weare , always in close contact with the fans and they appreciate that.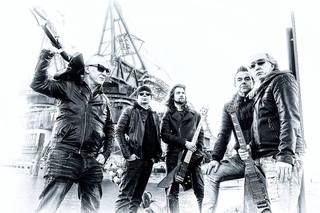 •    Did you have a chance to "test" some of the new songs in your live shows, before or after the album release?
•    When we released Circle Of 8 the focus was on promoting that album. But now it has been 4 years and finally we have the new album on the market. I am so pleased we are setting up the new live set , which we will perform for the first time in Utrecht (our hometown in the Netherlands) at our release party April 29. But the last few shows we did play a few of the new songs already. Yes as a sort of test. And the crowd loved them, so that was good sign (luckily haha). The new songs from the new album are real killer songs to play, so I am really really happy with the new live set and changing the songs on the setlist compared to the last few years.
•    After the release of "Darkness At Time's Edge" in 1986, Martyr went on a hiatus until 2009 and the "Fear" EP. Why was there such a long break in your activity and how did you decide to come back?
•    After "Darkness AT Time's Edge" was released things were going really well , we were touring a lot and got major publicity and some major record labels got interested , also due to help of our management at that time. But, youngsters as we still were we listened too much to that big label's wishes which wanted to force MARTYR into a more commercial direction. We did some demo tapes for them but in the end it didn't work out. In 1987 MARTYR broke up to get back together again in 2001 for a , what we thought, 1 time reunion for the Heavy Metal Maniacs Festival (A Dutch Metal Fanclub) and did the same in 2005/2006 for KIT, Headbangers Open Air and more festivals and tours .  It was on multiple requests that the band was asked to reunite and rerelease the 2 cult classic albums from the 80's. After those rereleases we kept on going ever after with new tours all over Europe and new albums as well as the fire kept on burning.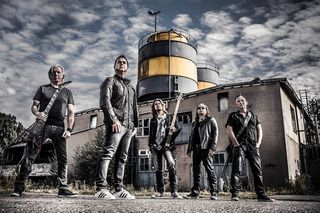 •    "Darkness At Time's Edge" and "For the Universe" are both albums that built a following for Martyr and  will always be mentioned by fans of 80's heavy metal. Upon composing and releasing new material for your comeback but also for your current album, have you ever feared that fans would not connect with your new music because "it's not like the 80's"? How did the fans actually respond?
•    Well that could happen actually, but I am happy to see our fans have grown along with us during time in the way we evolved our sound. Of course there might be a few that say the 80's albums are the best, and that is OK. But we wanted to move ahead, we didn't want to sound exactly like we did back then. We wanted to develop, we wanted to make the music (as we did back then) that we would like to hear now ourselves as said. So we did. And in fact I think MARTYR is bigger than ever nowadays.
•    Martyr are very active on terms of live performances, so i guess there will be some heavy touring to promote "You Are Next". What is your live schedule for the near future? Will you be playing at any festivals? 
•    Yes we always played a lot live. And we continue to do so after this release. We already did a few shows before the release but wanted to take it easy so the release party would be THE MARTYR show to visit here in the Netherlands for our Dutch fans. But also during the recording we did play live a lot. Now the album is out we kick off with the big release party on April 29 in De Helling – Utrecht to do many more club and festival shows over Europe. Working on several countries but for now mainly Netherlands, Belgium , Germany are booked. But we see a lot of interest from Greece and UK, and might be hooking up with a few bands to support them on tour.

•    What are your plans for the future? Will you start creating new ideas during the next months or will you just stay busy promoting "You Are Next" and check your options after this album makes its circle?
•    Yes we will now focus entirely on "You Are Next" and it's promotion. It is out for one week now, so ready to kick ass with it on the road mainly , promote it everywhere we can. What we also do is a lot of radio shows and radio- and magazine interviews. 
•    You know that in Greece there are some very passionate Martyr supporters, do you think they will have the chance to see you live in 2016?
•    As a matter of fact there was a show to be booked in Greece- Athens  for May/June, but It probably will be postponed to September. You know, we love to play Greece and have been there now twice. The Greek fans are maybe one of the best and most loyal. Always very fanatic and of course the food and ouzo is also great. So yeah we definitely will come over. I will also spend my holidays in Greece so maybe do some promo then as well haha. (Can't stop working) 
•    Thank you for having you here Rick, is there anything you would like to tell to metalzone.gr readers?
•    Yes, thank you for this opportunity as I do want to thank all readers and  fans for all the continuous support over all these years in this band.  Please check out the new album, it is really worth it and I hope you will have just as much fun and pleasure listening to it as such as we had making it . We do hope to come to your country soon and give you the MARTYR eXperience. 
Meanwhile connect with us on social media , cause we really  like to be in touch with you . Contact us on  http://www.facebook.com/MARTYRONLINE or visit us on www.martyronline.nl or write to info@martyronline.nl. We love to hear from you ! 
Cheers / γεια μας