INTERVIEW WITH GLACIER
INTERVIEW WITH GLACIER
Glacier is a legendary band from the eighties. A few years ago they've made their come back and in October a new album will be released ! We've  contacted them for the details !
First of all I would like to welcome you on MetalZone.gr ! You come from the golden days the80's . Firstly give us a bio the band, the line up through the years. 
MP: Glacier was formed in 1979 by guitarist Sam Easley, with the name, suggested by fellow guitarist Patrick Goebel, derived from a street name at Black Butte Ranch in Oregon. The band released a three song demo, Ready for Battle, in 1984 with the lineup consisting of Easley and Goebel on guitars, Tim Proctor on bass, Loren Bates on drums, and myself as vocalist.  The following year, we released the five song, self-titled EP, Glacier, on AxeKiller Records, which featured the original band members, along with guest vocalists Rex McNew and Keith Flax.
Then, in 1988 Glacier released a second demo that presented a significant lineup change, as it only included band-members Goebel and Bates from the original demo. The remaining band was comprised of Troy Ketsdever on bass, Mehdi Farjami on guitars, and Gargoyle vocalist Tim Lachman. Two years later, in 1990, Glacier disbanded. In 2015, on Christmas Day, three digital singles were released, to include "Sands of Time," an instrumental rehearsal from 1985, "Vendetta," a re-release of the original 1985 recording, and also a re-mastered version of "Vendetta" as well. Sadly, 9 months later Sam Easley passed away.
In November of 2016, organizers of the Keep It True metal festival in Germany announced that the band Devil in Disguise, a Glacier tribute band led by myself, and consisting of Alfonso Polo "Poncho" Cuevas on bass (and touring bassist Greg Bruchert), Michael Mendoza and Michael Maselbas on guitars, and drummer Adam Kopecky, would perform live at the sold out Keep It True XX in the spring of 2017.  Backed by Bruchert, Mendoza, Maselbas, and Kopecky, we played a full set of Glacier songs that had not been performed live in almost 32 years.
After receiving an abundance of positive accolades, we continued to perform as Devil in Disguise throughout 2017, playing Chicago's Legions of Metal festival in May, and opening for Doro in mid-September. At this point in time, Devil in Disguise was comprised of Michael Maselbas, Michael Mendoza, Alfonso Cuevas, Adam Kopecky, and myself.
On January 8, 2018, with the approval of Glacier's surviving original band members, Devil in Disguise announced that we would recommence under the name Glacier. The lineup again changed with the departure of guitarist Michael Mendoza, who was replaced by Ryan Bruchert, and bassist Alfonso Cuevas, who was succeeded by Marco Martell.  In May of 2018, former original band member Tim Proctor, joining Maselbas, Martell, Bruchert, Kopecky, and myself, made a guest appearance on stage during our set at Seattle's NW Metal Fest. Later that month, we traveled to Athens, Greece to perform at Up the Hammers XII, and in October we visited fans in South America for the first time, playing at Jaguar Fest in Bogotá, Colombia. While Maselbas, Martell, Bruchert, Kopecky, and I made a phenomenal team, upon returning to the United States, Ryan Bruchert announced his departure from Glacier, and Marco Martell made a shift from bass to guitar when newcomer Alex Barrios joined the band as bassist.
In August of 2019, Glacier played Germany's Trveheim Festival, and we performed in the Netherlands at the Heavy Metal Maniacs Festival in mid-September. Later in October, we headlined a mini-tour in the Pacific Northwest with support from Riot City, Gatekeeper, Road Rash, Silver Talon, and Sölicitör. We wrapped up the recording, mixing, and mastering of The Passing of Time late last year, and now we are eagerly awaiting the  October 30th release.
Your activity took place in the golden metal years the eighties. What was the feeling back then? What have you kept in mind from those days ? 
MP:  I remember how packed Portland's venue, the Starry Night, was for our shows and other shows.  Glacier was my life at that time, and it was a great part of my life that I will always cherish. 
In 1985 you have released a legendary E.P. Give us the details from the days of that recording. 
MP: When I joined the band, we were working on original material and within a year we went into Northstar Recording Studio in Portland, Oregon.  It was a lot of hard work in the studio.  It's also a lot of waiting and re-recording.  I remember we were recording "Speak no Evil" and Loren kept messing up his drum track.  He asked me for a Coke and I said, "NO, Not until you get it right."  He finally nailed it, and after we stopped recording he said, "Sweet! Give me a pop!  We actually left that line on the original demo cassette.
What feedback did you get for this release? 
MP: After I got back into music, I could not believe how popular our 1985 EP was.  I get lots of people telling me how much they enjoy it, and how much it means to them. Very heartfelt.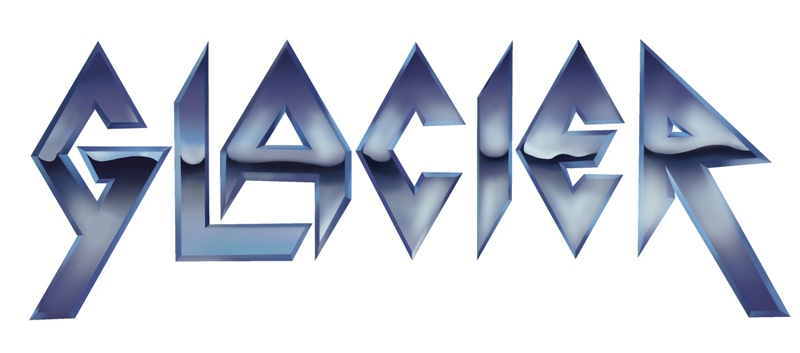 How do you feel knowing that this release is a valuable collector's item? 
MP:  Yes, I started looking for an original a few years back, and at the time it was $250, which I thought was CRAZY.
What else you have released back then? 
MP: Besides the '84 Demo, the '85 EP, the '88 Demo and the new album The Passing of Time not really.  After I left Glacier in 1985, I rejoined my old band, Harlot, and we wrote enough material for an album, but only recorded one song for a radio station compilation.
 Live performances: How active were you back then? Any special gigs that come first in your mind? 
MP: We played quite a few local shows in Portland, Oregon. We opened for Wild Dogs a few times. One show was in Eugene, Oregon at the Fairgrounds, where we opened for Wild Dogs and RAIL. That one was a great show and probably our largest show back then, with about 2,000 people.
 Having performed back then and now what are the differences as far as the audience is concerned? 
MP: Back then, metal was young and the people going to these shows were young kids. It was kind of an underground genre.  Today, you see kids, adults, and whole families going to see metal shows.  I could not believe how many dads I see bringing their young children to Judas Priest shows, and the kids love it.
What led the band to disband in the late 80s?  
MP: After my departure in late 1985 they could not find a permanent singer in the area.  They moved to LA, and then moved back. The later 80s saw the demise of metal as tastes were changing to more towards grunge. Grunge happened.
Now, Glacier has made a comeback. How you did you come with the decision to reform the band? Give us the details! 
I was contacted by a promoter in Chicago about us doing a reunion show. Sam Easley and I had talked about doing it, but never could make it happen.  After Sam passed, the promoter offered to put a band together in Chicago and have me come down and sing all the old songs. Then Oliver from Keep it True heard about it, and he booked us for 2017 Keep it True.  It just grew from there. We were invited to play more fests.
What is the feedback you got after the comeback so far? 
MP: Everyone seems to really like it a lot. So we will keep going.
Twenty-five years after the release of Glacier E.P. you release through No remorse records your first full length. Give us the details for this release! 
MP:  No Remorse is a great label; Chris and Andreas are good friends of mine, and they loved the old Glacier stuff and wanted to do the new album. They really like the new music and hopefully it sells out. 
Is the material for the "The Passing of Time" totally new or some of the tracks are unreleased material from the '80s? 
MP:  Five songs are brand new, "Infidel" is one of Tim Proctor's old songs from the 80s, and Adam, our drummer, wrote the lyrics with Tim.  "Live for the Whip" and "The Sands of Time" are also original 80s Glacier songs that were never released.
Describe your new release in three words, What should we expect? 
MP:  Melodic, Powerful, and Intriguing
 Once someone said that Heavy Metal in the USA is "dying" as far as the fans are concerned. Do you agree with that? What about Europe? 
MP:  It definitely died in the early 90s with the grunge movement.  Today it is more of an underground movement, but it's definitely growing again. Metal is the sleeping giant and it will thrive again.
Which are your future plans after the comeback and the new album?
MP:  We're looking forward to the pandemic ending and getting back on tour, playing fests, and writing another album.
 Metalzone.gr thank you for the opportunity of this interview. We wish you the best for the future. The last words always belong to the band.
MP: I want all our fans and friends around the world to know we love and miss them. We will see you all soon. I hope you love our new album as much as I do. Horns up!!!  Michael Podrybau.