AXE RELEASE FIRST FOUR ALBUMS IN A DELUXE CD BOX SET
AXE RELEASE FIRST FOUR ALBUMS IN A DELUXE CD BOX SET
They toured with every major metal act - from Iron Maiden to Scorpions to KISS to Mötley Crüe - at the height of those bands' popularity, electrifying stadium-sized audiences with the fierce determination and fiery spirit of a rock'n' roll underdog. Signed to MCA Records, they built a cult following on the strength of their superb studio albums, beginning with the classic 1979 self-titled album. They are Axe and although they seem to fly under the radar of mainstream audiences, the band continues to be rediscovered by new generations of classic rock fans. 
Now, a deluxe 4CD box set seeks to re-introduce the band to modern music fans, collecting the '79 debut and the subsequent albums they released before a long 13-year hiatus. Those albums include the slickly produced Living On The Edge (1980), the 1982 album Offering that spawned the band's best known song "Rock 'N' Roll Party In The Streets," and 1983's Nemesis, which was the last album to be released with founding guitarist Michael Osborne who was tragically killed in a car accident shortly following the album's release. Each album comes in its own sleeve reproducing their iconic album covers and is packaged with a full-color booklet featuring rare photos and extensive liner notes written by rock journalist Dave Thompson.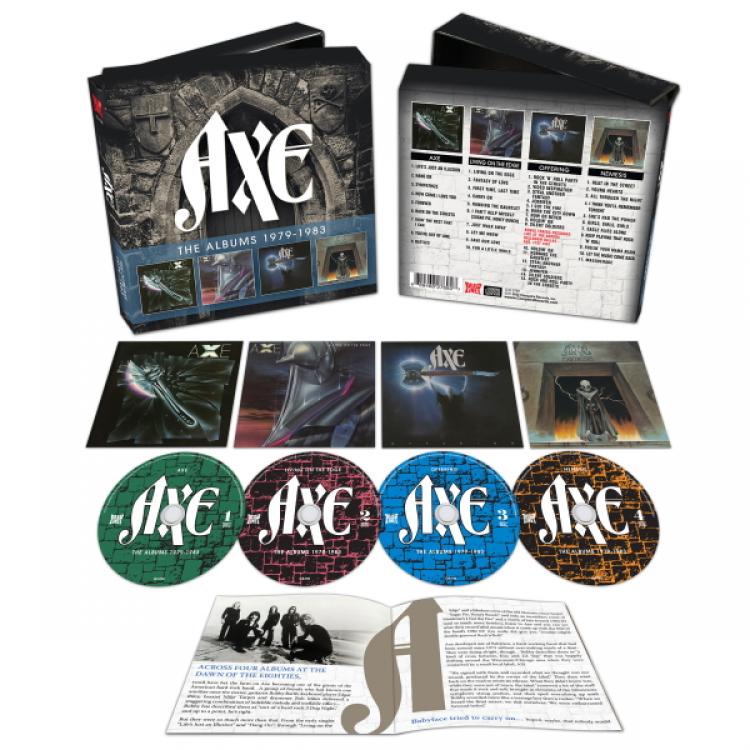 Order the box set at cleorecs.com.
Each of the albums will also be reissued on vinyl; starting with the first two. Order the Axe LP here and Living On The Edge here.