BAVARIA'S SAVAGE RELEASE NEW TRACK "MAKE MY DAY"
BAVARIA'S SAVAGE RELEASE NEW TRACK "MAKE MY DAY"
Bavarian mean metallers Savage have unveiled their new single, "Make My Day". The track is the second to be revealed from the band's debut album, Glory Riders, set for international release on September 22nd via Dying Victims Productions.
Hailing from Bavaria, Savage formed in 2019 and promptly began solidifying their aesthetic. Then a trio, Savage's sound remained firmly within the 1980s, and specifically on the darker and more dangerous side of the Sunset Strip – namely W.A.S.P. and early Mötley Crüe. The first sinful fruit was borne with their self-titled debut EP, which was recorded at the end of 2021 and then self-released during the following summer. Strictly DIY from mixing and mastering to promotion and distribution, Savage showed that they had the fire already raging: word of mouth spread worldwide, the record nearly sold out, and work had already begun on their debut full-length.
Now with the addition of rhythm guitarist Alex "Axel" Warrior, Savage have developed into the (f*ck-like-a) beast they always aimed for, and are prepared to deliver a their debut album: Glory Riders. Almost presciently titled, Glory Riders soon becomes a self-fulfilling prophecy of dirty and raw metal – or, as the band rightly liken it, Mean Heavy Metal. From sound and spirit, on down to production and overall attitude, Savage have the sleaziest side of classic American metal down cold…or, should that be fiery? Indeed, even with the categorically cruising mid-tempo at which they move, Savage positively ooze energy; hooks and heaviness take equal weight, and there's just the right amount of spaciousness here (a la W.A.S.P.'s nigh-untouchable opening trio of albums) to lend moodiness and mystery to the band's stadium-ready bravura. Neither flashy nor rudimentary, Glory Riders is simply stripped-down and muscular where it needs to be, keeping emphasis on the songwriting (and solos) and letting Savage's irresistible attitude take hold.
Without hyperbole, Savage have hereby thrown down the gauntlet for any band, ever, attempting to invoke the sound and spirit of the aforementioned glory years of W.A.S.P. and Mötley Crüe. Further references include classic Twisted Sister, early Lizzy Borden, Halloween, Impaler, and even Coup d'état-era Plasmatics, but one listen to Glory Riders and you'll be convinced that these still-young gods are the real f*cking deal.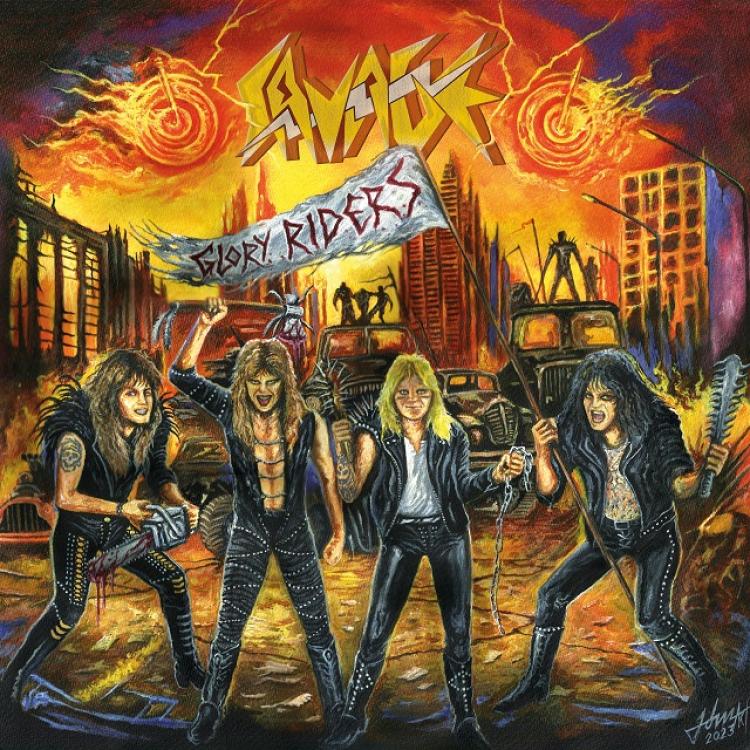 Tracklisting:
Carcass On Your Shoulders
Life In Chains
Make My Day
Master Bator
Wheels Of Fire
Thirty & Dirty
Nightmare Invaders
Glory Riders