IMPELLITTERI TO RELEASE CAREER SPANNING BOX SET, THE COMPLETE BEAST, IN OCTOBER
IMPELLITTERI TO RELEASE CAREER SPANNING BOX SET, THE COMPLETE BEAST, IN OCTOBER
When legendary guitar shredders are mentioned, it doesn't take long for Chris Impellitteri's name to come up, spoken of in the same breath as legends like Yngwie Malmsteen, Paul Gilbert and  . Superstars in Japan and with international sales of over 2 million records, Impellitteri the band were inducted into the 2023 Metal Hall Of Fame.
This lavish 6CD box, brings together, for the first time outside of Japan, every Impellitteri album and EP release between the band's debut in 1987 until 2009's Wicked Maiden. Also included are numerous bonus tracks and outtakes.
Making for a mammoth career spanning set that is an essential purchase for not just Impellitteri fans, but for fans of melodic heavy metal in general and featuring vocalists Graham Bonnet & Rob Rock.
A message from Rock Rock states: "From the Impellitteri Black EP to the Wicked Maiden CD, this collection brings back a flood of awesome memories of the intense rock and roll that was inflicted upon the world from the blistering guitar work of Chris Impellitteri and the intense vocals of Rob Rock and Graham Bonnet, James Pulli on bass, and several world renown drummers. Each CD marks an era in my mind and heart because we put all that we had into our recordings, and you can hear the development and direction of the band as we journey through these CDs and EPs, listening to the songs and albums once again. This collection is one that the fans of the band will truly enjoy, and the ones that wanted them but couldn't find the CDs locally, can finally get them more easily worldwide. Now it's time to discover the music that Japan/Asia has cherished for decades - Impellitteri!"
Pre-order here.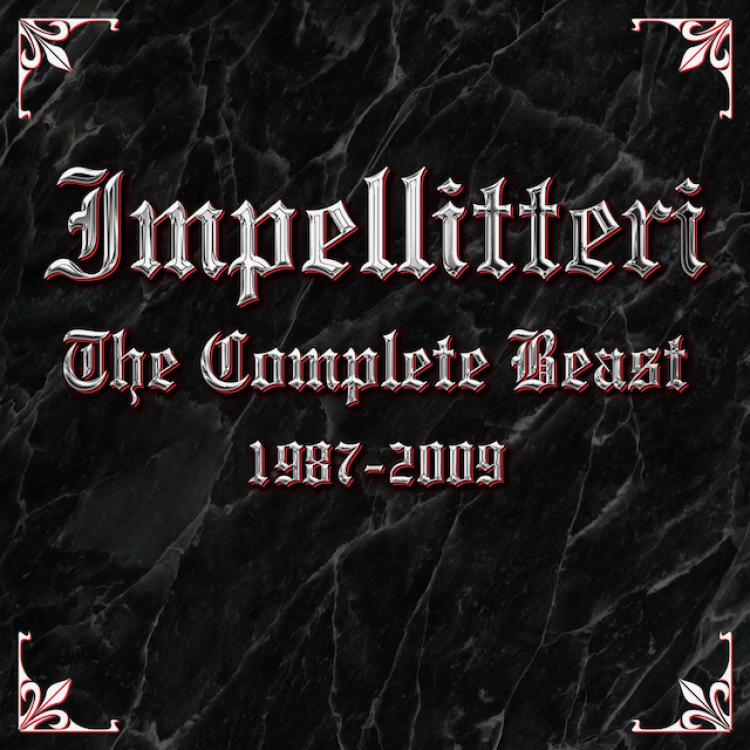 Tracklisting:
CD 1
Stand In Line (1988):
Stand In Line
Since You've Been Gone
Secret Lover
Over The Rainbow
Tonight I Fly
White And Perfect
Leviathan
Goodnight And Goodbye
Playing With Fire
Grin & Bear It (1992):
When The Well Runs Dry
Ball And Chain
Wake Up Sally
Power Of Love
Under The Gun
Endless Nights
City's On Fire
Grin & Bear It
Dance
CD 2
Answer To The Master (1994):
The Future Is Black
Fly Away
Warrior
I'll Wait
Hold The Line
Something's Wrong With The World Today
Answer To The Master
Hungry Days
The King Is Rising
Screaming Symphony (1996):
Father Forgive Them
I'll Be With You
Walk Away
Kingdom Of Light
Countdown To The Revolution
17th Century Chicken Pickin'
Rat Race
For Your Love
You Are The Fire
CD 3
Eye Of The Hurricane (1997):
Eye Of The Hurricane
Shed Your Blood
Fuel For The Fire
Race Into The Light
Bleed In Silence
Master Of Disguise
On And On
Everything Is You
Kingdom Fighter
Halloween
Paradise
The Eps:
Impellitteri EP (1987):
Lost In The Rain
Play With Fire
Burning
I'll Be Searching
Victim Of The System (1993):
Victim Of The System
Visual Prison
Glory
Cross To Bear
The Young And The Ruthless
CD 4
Crunch (2000):
Beware The Devil
Turn Of The Century
Speed Demon
Wake Me Up
Spanish Fire
Slay The Dragon
Wasted Earth
Forever Yours
Texas Nuclear Boogie
Fear No Evil
Pedal To The Metal (2004):
The Writing's On The Wall
Crushing Daze
Destruction
Dance With The Devil
Hurricane
Judgement Day
The Iceman Cometh
Punk
Propaganda Mind
Stay Tonight
CD 5
System X (2002):
United We Stand
Perfect Crime
End Of The World
She's A Nighttime Lover
Slow Kill
Why Do They Do That
Rock & Roll Heroes
Gotta Get Home
What Kind Of Sanity
Falling In Love With A Stranger
Anti-Social Disease (Bonus Track)
Live, Fast Loud (Bonus Tracks):
Visual Prison
I'll Be With You
Victim Of The System
Walk Away
Stand In Line
Countdown To The Revolution
Burning
Lost In The Rain
CD 6
Wicked Maiden (2009):
Wicked Maiden
Last Of A Dying Breed
Weapons Of Mass Distortion
Garden Of Eden
The Vision
Eyes Of An Angel
Hi-Scool Revolution
Wonderful Life
Holy Man
The Battle Rages On
Bonus Tracks:
Stand Or Fall (B-Side)
Tears In The Eyes Of The World (B-Side)
Freak Show (European Bonus Track)
Cyber Flesh (Japanese Bonus Track)
The Fall Of Titus (American Metal Vs. Swedish Metal) (Japanese Bonus Track)
More Live, Fast Loud:
For Your Love (Live)
Warrior (Live)
The King Is Rising (Live)