RIVERSIDE RELEASE NEW SINGLE/VIDEO "FRIEND OR FOE?"; BAND ANNOUNCE FIRST LEG OF EUROPEAN TOUR
RIVERSIDE RELEASE NEW SINGLE/VIDEO "FRIEND OR FOE?"; BAND ANNOUNCE FIRST LEG OF EUROPEAN TOUR
Poland's pioneering and leading progressive rock band, Riverside, will release their new studio album, ID.Entity, via InsideOutMusic on January 20. Therefore, Riverside are pleased to reveal a next new single and video in promotion of the upcoming album today.
Check out the album's opening track "Friend Or Foe?" in its 'Single Edit' and with a video clip animated and directed by Thomas Hicks below.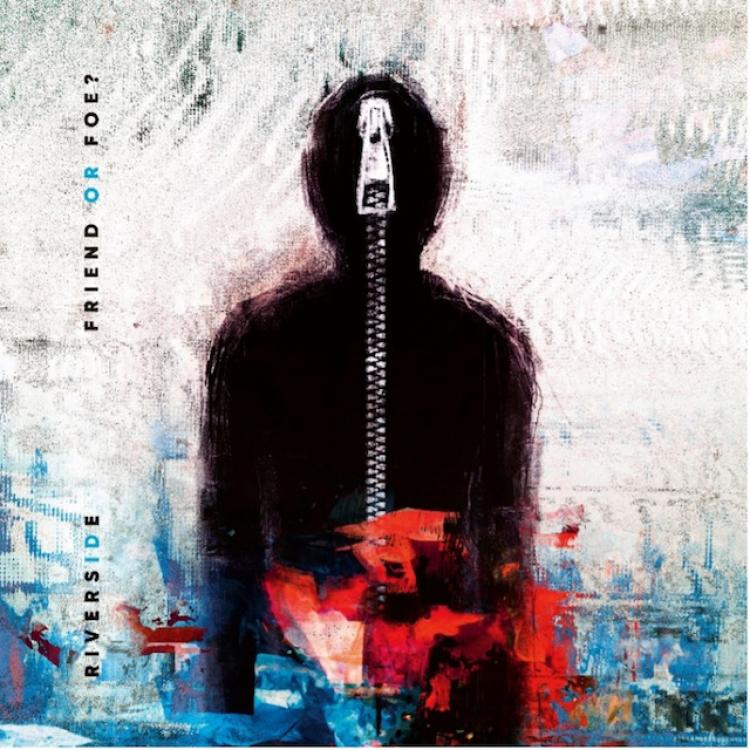 Riverside's Mariusz Duda checked in with the following comment about the new single: "'Friend Or Foe?' is one of the key songs on the new Riverside album. Not only is it the opening track but, musically, it is possibly also the most courageous and intriguing one.
One of its strong points is the lyrics which talk about how we're perceived by others, especially these days, when pretending to be someone you're not on social media has become the norm. Can we still be ourselves or do we have to keep adapting to the requirements of new algorithms? Perhaps we've already lost our identities and we're only waiting for instructions from a Siri or Alexa?
"Who do you pretend to be?" are the first words of the song and the listener has already started searching for that 80s band it reminds them of. Is this a mere inspiration or is it provocation? Is the writer of the song pretending to be someone else or is this who he really is? Who is behind it all? The artist himself or a producer churning out music for many other artists? Is what I'm writing now a reflection of what I'm feeling or am I writing it because I want to put the song on a higher recommended playlist? And if we apply it to politics, who are the candidates? Are they credible? Trustworthy? Will they keep their promises? And finally, will we be able to trust each other one day, hear each other out and understand, or will we still keep our distance and suspicions?
Perhaps there is a chance to build a better world, but how to recognize who is a friend and who is a foe?"
ID.Entity, the group's 8th studio album was recorded and mixed in two studios - The Boogie Town Studio in Otwock with Paweł Marciniak and in Serakos studio in Warsaw with Magda and Robert Srzedniccy -, mastered by Robert Szydło and produced by Riverside's Mariusz Duda himself. The ID.Entity artwork was created by Polish artist Jarek Kubicki.
The bonus material appearing on ID.Entity includes the instrumental tracks "Age Of Anger" (11:56) and "Together Again" (06:29) as well as "Friend Or Foe? (Single Edit)" (05:59) and "Self-Aware (Single Edit)" (05:29).
The album will be available in the following formats:
•Ltd. Deluxe 2CD+Blu-ray Artbook
(Disc 1: Album, Disc 2: All 4 bonus tracks, Blu-ray: All main 9 album tracks in Dolby Atmos, 5.1 and 24bit HighRes Audio mix versions)
•Ltd. 2CD Mediabook (Disc 1: Album, Disc 2: All 4 bonus tracks)
•CD Jewelcase
•Deluxe Digital Album (Including all 4 bonus tracks)
•Digital album
The album's vinyl version comes as Gatefold 2LP (With the bonus tracks "Age Of Anger" and "Together Again" on Side D) in the following variants:
- Black vinyl: All outlets
- Orange vinyl: All outlets
- White vinyl: 500x copies via JPC & Burning Shed
- Yellow vinyl: 500x copies via EMP & Just For Kicks
- Sky Blue vinyl: 600x copies via Laser's Edge & CM Distro/Webshop Europe
Preorder here.
Tracklisting:
"Friend Or Foe?"
"Landmine Blast"
"Big Tech Brother"
"Post-Truth"
"The Place Where I Belong"
"I'm Done With You"
"Self-Aware"