SCARLET AURA NEW ALBUM COMING ON SEPTEMBER 10TH
SCARLET AURA NEW ALBUM COMING ON SEPTEMBER 10TH
The last part of "The Book of Scarlet" trilogy is about to be revealed. Chaos on Earth, uncertainty n life, plagues, disasters and once again the feeling that there is no-one there to save the world. But from a distance there is always someone or something that watches... humankind. Scarlet, partly Devil, partly Angel and most important - partly Phoenix is there together with his sidekicks to set rights and wrongs.
Tired to be deprived of your rights and liberties, of your passion and freedom? Then join us. This album will set you free!
Mixed, mastered and produced by Myke D at the Silver City Studio, the songs on "Genesis of Time" do not shy away from taking a risk and introducing unexpected turns, new musical atmospheres and landscapes. Continuing where the predecessor album "Stormbreaker" left off, "Genesis of Time" with its state-of-the art production, a touch softer but more powerful than ever vocals, hot and heavy riffs, thunder bass and drums on steroids brings the perfect and balanced ending to "The Book of Scarlet" trilogy.
"Genesis of Time" marks also the new height in sound production – it will be the first release for Scarlet Aura specially mixed and mastered for Apple Digital Masters, delivering the studio quality recording to their listeners. 
Scarlet Aura muses: "At the beginning there was nothing... which exploded! Master Terry Pratchett said it and it is perfectly suited to our "Genesis of Time" album. On a more-less extended description, this album comes as the Big Bang! The start of everything at the end of everything..."
The album artwork was designed by Gustavo Sazes, known for his art for Amaranthe, Epica, Angra, Arch Enemy and many others.
This is undoubtedly Scarlet Aura' next milestone that emphasizes their artistic growth. The album brings the perfect and balanced ending to "The Book of Scarlet" trilogy – 3 musical albums and 3 fantasy book volumes that are depicting the world of Scarlet for listeners and readers – part of which are predecessors "Hot'n'Heavy" and "Stormbreaker" albums. With 12 brand new songs and more than one hour of music, "Genesis of Time" is definitely going to be one of the brightest moments for heavy metal in 2021.
"The Book of Scarlet" trilogy:
"Hot'n'Heavy", Silver City Records 2019
"Stormbreaker", Silver City Records 2020
"Genesis of Time", Universal Music & Silver City Records 2021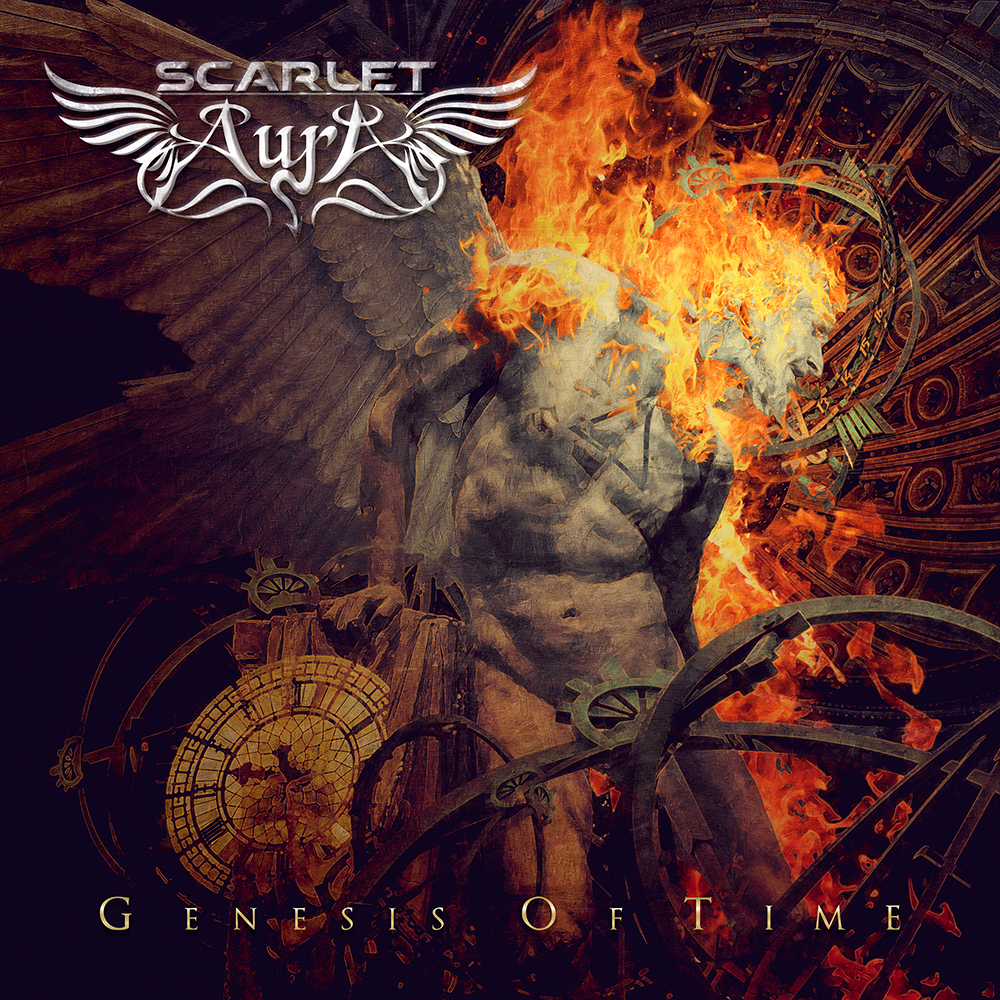 Tracklist:
The Book Of Scarlet
Raw Power
Dark Lightning
Utopia
Frostbite
The Black Roses
Right Place, Wrong Time
Humans Obsolete
In The Line Of Fire
Saints Need Sinners
Wings Of Light
Genesis Of Time
Book: "The Book of Scarlet. Vol. I – Ignition". ISBN: 978-3964439796. 170 p; 2018, 2019 (by Aura Danciulescu)
SCARLET AURA are:
Lead Vocals: Aura Danciulescu
Lead guitar & Vocals: Mihai "Myke D" Danciulescu
Bass guitar & Vocals: Rene Nistor
Drums: Matthias Klaus