Interview with Masami Fujimaki - VALHALLA MALTEZE
Interview with Masami Fujimaki - VALHALLA MALTEZE
First of all, I would like to welcome you on MetalZone, Sami!  And the story begins somewhere in Japan! Correct me if I am wrong. I would like to know when, where and how this "love affair" between you and the specific instrument started. What urged you to first pick up a guitar and learn how to play it?
I was just into pop music such as BEATLES, SIMON & GARFUNKEL and ROLLING STONES about at the age of eleven. I still remember that moment and sensational experience. When I came from school, I tried to turn the TV and watch DEEP PURPLE's live show. I was very shocked and paralyzed to see the black-suited guy playing his guitar with his butt and his boot and finally broke it down! That's why I started playing under his influence. But I had no guitar instruction books, school and YouTube so I had to learn it by just listening to it and discover guitar method, phrases and scales by myself.
What made you move to the States and how difficult was it for you in the beginning? I mean, you had to get used to a completely different way of life as well as culture and mentality. And how long did you stay?
I was a 19-year old boy when I moved to Berkley, California in the first place. Berkley was a very unique and rare city in US coz' all cultures and thoughts are mixed together. LA was so wild and crazy. I grew up in the rural, peaceful and boring town in Japan so everything was different and very exciting but also complicated. But I like LA and I miss it now! You always need a long drive to get to your destination. I don't like to drive a car. I lived in the US for 25 years.
Which bands and guitar players influenced you the most?
Off course, Ritchie Blackmore was my first impressive guitar God and SCORPIONS was the first rock band that I saw back in 1978 as you know from "Tokyo Tapes". It was awesome and I still think that was the best live show in my life. Uli Jon Roth inspired me in a lot of things and I love his classical music influenced techniques and emotional plays. I also like Randy Rhoads, Michael Schenker, Gary Moore and Vinnie Vincent as songwriters. I love Euro metal and Euro composers.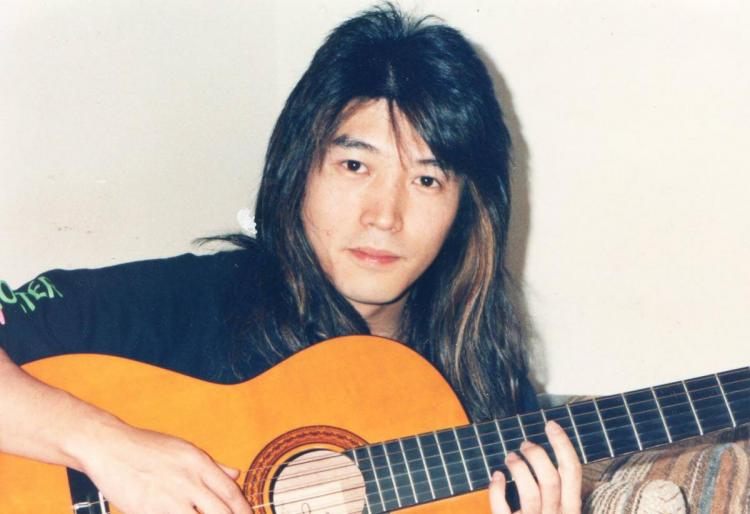 In 1988 you started your first band MEAN BUSINESS with Keith Flax on vocals, Erin Bertley on the bass and Mark Bennet on the drums. Were you a cover band like many other US bands in the beginning or did you have your own songs as soon as you were formed? Are there any recordings from MEAN BUSINESS like rehearsals or even a demo tape release?
Yes, I and Keith wrote a lot of original songs and recorded demo tapes. VALHALLA material was not written yet when we got together at that time.   
In 1989 you tried to form a new band with Steven Sarcch (vocals). I would like to learn more about that collaboration. You have mentioned somewhere that Steven was a former member of ICON but to tell you the truth I found no information about that. I just saw that Clifford was their vocalist. Enlighten us, please.
Me and Steven were trying to start a band with European bassist and drummer. He moved up to North California so I gave up this and went to MALTEZE. I think he must have his credit on the second or third album but not in all tunes, I guess he sang in some tunes of the album.
1989 was also the year that you joined MALTEZE! How did that happen?  I also know that John Pillay was the man who pulled the strings of MALTEZE. He produced, arranged, mixed and engineered "Count your Blessings" and he was also involved in songwriting. How was your relationship with Barbara and JP?
I went to MALTEZE's audition but I failed and after a couple of months John called me to play in their demo as a hired gun. We recorded a couple of songs in the studio and they liked it so much. A month later John called me again and ask me to join the band coz' a couple of major labels were interested in the demo and they loved my guitar so we were going to have a showcase and he invited me to come and play!! That's how I joined MALTEZE. John was a very good friend of mine and that kept me in the band. A couple of years later I quitted the band as I went to start my new band with my own music which was more guitar-oriented.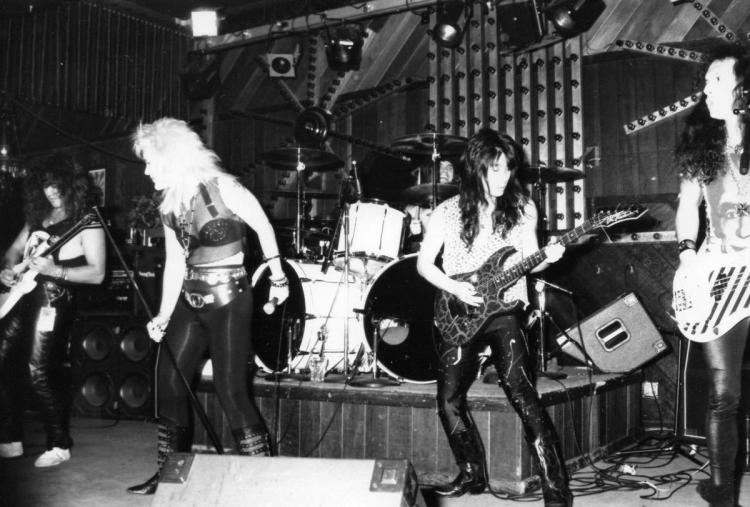 In my opinion the killer songs of "Count your Blessings" are due to the perfectly suited voice of Barbara as well as the excellent lead guitar. I guess that you were the one that did most of the leads so were you satisfied by the credits you got from your performance? Actually were there any?
I guess "Count your Blessings" was written by John and I don't play lead guitar on the track and Steve actually played. He got so pissed when the former guitar player came to see our show and he yelled at Steven "You rip off my guitar solo, fucking shit". John insisted on him to play the same exactly solo just like the former guitarist played.
Unfortunately in Europe, only a few people knew about the existence of MALTEZE back then. What went wrong? I know that in the late eighties, early nineties the music scene changed completely so it was really difficult for a heavy metal band to find acceptance. Do you think that this was the only reason that you lived in obscurity for so long or was it something that had to do with the label? Not fruitful promotion and support for example. What was the feedback that you had by Active Records?
I quitted MALTEZE a long time ago so I don't know how things are going on. MALTEZE was in a very bad timing in the scene of LA metal. There was a lot of band's competition at the end of 80's in LA. They all came to LA. All of a sudden music scene turned to something different. All labels stopped signing metal bands. A lot of metal night clubs and pure rock radio stations went in bankruptcy so that was the turning point of the music scene.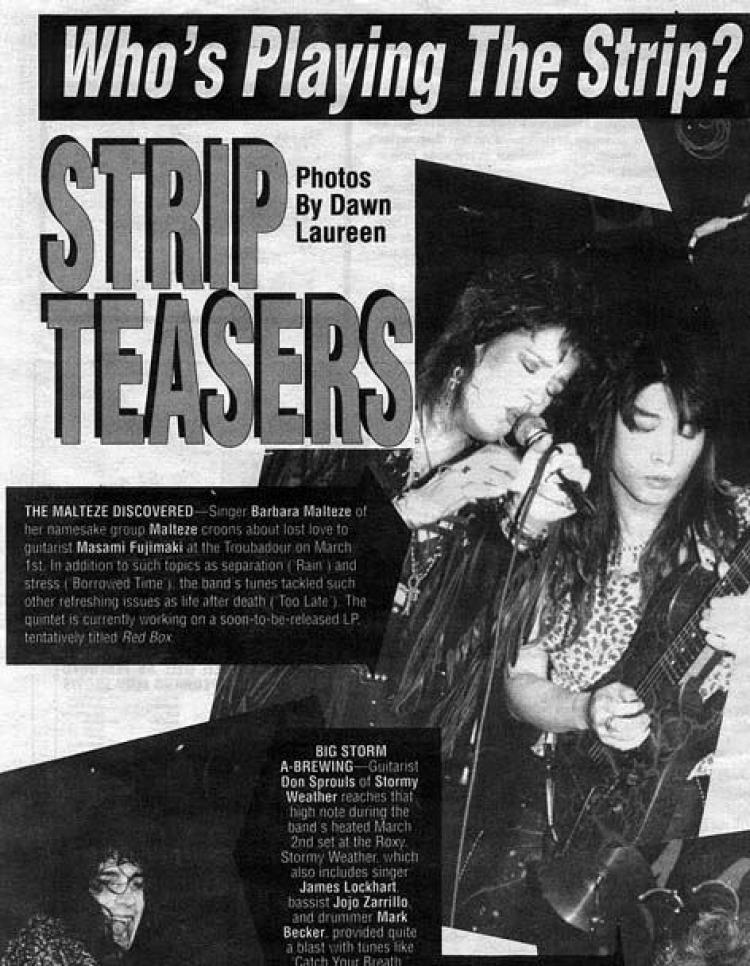 Barbara had mentioned in an old interview that after the release of the album there was a "drug" problem in the band. Feel free not to say anything about it. However, the band worked on some songs for the second album. These songs were recorded but they were never released? So what happened?
I was the only person who was so clean and I didn't even smoke weed …ha ha. As I know, a few died because of overdose. We were looking for a deal with Japanese Labels and we recorded full album songs with guitar-oriented materials which we have been playing at live shows in LA. I really liked the second album but John didn't want to put those songs in the first album for some reason.
Sadly to say, but you never made it to Europe with MALTEZE. Still, lots of festivals want to book MALTEZE for a reunion show in the last few years. Somebody seems to be an obstacle in a re-union but if it was up to you, would you be interested in something like that?
I talked to Barbara about it a few times on Facebook but we ended up it as it seemed not to be possible both financially and realistically.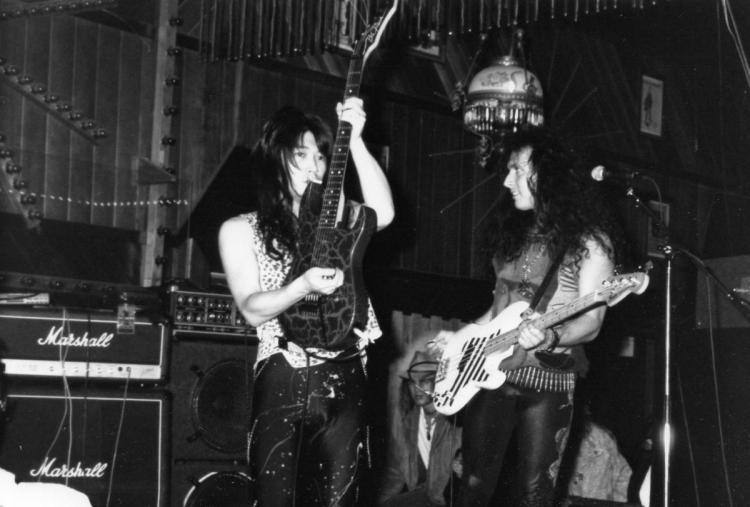 I think it's time we leave MALTEZE in "Rest in Peace" and let's go to something that we are all looking forward to. After the split of MALTEZE you got in contact with your former buddy Keith Flax and formed VALHALLA!!!! How did that happen and who was the mastermind of that band? Please do mention the rest of the gang.
I called Keith when I quitted MALTEZE and my manager pushed me hard to start a new band. Keith was playing with a band called PANTHER so we got the whole members to start the band. I don't remember exactly but Frankie (drummer) mentioned he would bring us a very good bassist who was playing with Lenny Wolf. That was Ralph who went to SCORPIONS later on.
You recorded a lot of songs with VALHALLA but in the end, they were never officially released. Why?
We got a dummy manager who didn't know music business ha ha ha... Time was so bad and mainstream was getting downwards Alternative or Death Metal or any other kind music as you know!
And finally, Cult Metal Classics did the official release! How do you feel about that after so many years? Do you have any more plans about VALHALLA?
That's very exciting!! Thank you for giving us this opportunity, Christine! You are the key person for VALHALLA and the best metal woman in the world! I am very happy to make my music available and open the door for every metal dude around the world!! I appreciate you.
It was a  pleasure! So I know that now you are back in Japan! I also know that you have your own music school. Apart from that do you have any other projects or plans in mind about the future?
I got the first gig on 2-17. I haven't played with a band for 30 years since the VALHALLA era! (lol) I'd love to have a reunion with VALHALLA and Keith and play around Europe and even writing more stuff with Keith and hopefully getting a new album out for the Metal world.
Tell me something about the current metal scene! Do you have any favourite bands?
I don't really listen to new Metal bands but my students brought a lot of CDs for me so I need some time to listen to them carefully and I wish to learn something about modern metal.
Supposing  I give you only three words to describe music which ones would they be?
ROCK HARD FOREVER! 
I really had a great time! Thanks a million! It was really a pleasure talking to you. Wish you and VALHALLA all the best! If you have anything to add this is the right time!
Thank you so much, my friends and Christine!! I hope you guys rock and roll and play Metal as loud as possible!! See you!!