Interview with Zsolt Henczely from CANDLE OPERA
Interview with Zsolt Henczely from CANDLE OPERA
First of all, I would like to welcome you to Metalzone! 
Hello Christine! Thank you for having me in Metazone Hellas!
Before we get into the story of CANDLE OPERA let us go back and talk about your first steps with SOLAR EAGLE. You formed the band with Smash and Rob in 1987! How did you guys get in touch together and who suggested to name the band SOLAR EAGLE?  The Line-up got completed with The Axe who you met in a rehearsal room in Scarborough! How did this happen? Your base was in Kawartha Lakes area, so was there any chance to find a guitar player there or were you aware that the Scarborough metal scene had to offer a bigger bunch of excellent guitarists at that time?
I've found an ad in a music store in Scarborough "Metal band looking for a bass player" So I called them. I'm not sure they had a name at the time. It was Pat (Smash), Rob and a guitar player. They got rid of the guitar player soon after I joined.
We've rented a rehearsal space in Scarborough from Axe who later joined the band.  The band was basically Scarborough based. Pat and Rob lived about one hour North of there. The EP we have recorded had a lot of my writing and arrangements and got a record deal for the band.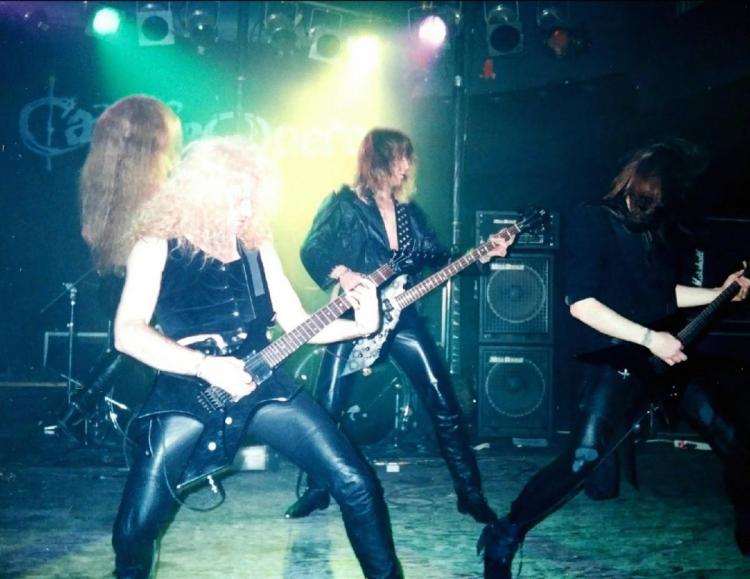 So after the recordings of the self-titled EP in 1988 and the follow up "Charter To Nowhere" in 1989 what happened then?
I didn't like violence and the fact that the drinking started effecting the rehearsals and the production, so I quit in early 1988. The release was after I've quit the band. It's a shame that they didn't give me any credit and didn't even put my name on the EP.  I don't know what happened with their next recording.
After the split, it was Rob Straughan (dr) who formed CANDLE OPERA together with Cari Rain Gates (guitar) and Damien Graves (guitar) in Toronto 1990! Did you already know that Rob had a new band and how did you get in contact with them? By the way, who came up with the band's name? Was it just a cool-sounding mystic moniker or was there a deeper meaning behind the name?
I've met CANDLE OPERA in 1990 at the Gassworks tavern and joined the group in 1991. Rob Straughan was not the drummer from SOLAR EAGLE. Everyone in the band tried to come up with a good name. CANDLE OPERA was Caro's idea. I don't remember a deeper meaning behind the name. CANDLE OPERA was definitely more of a power metal band than SOLAR EAGLE.
So, after you joined the band you started writing and arranging songs with them. What are your memories about the first days you spend together? Do you agree that if I compare the style of your former band, I think you turned with CANDLE OPERA much more into Power Metal! Do you agree with that?  Was it up to Cari and Damien who came up with all those amazing riffs and licks or was it more of a collective process to write the songs?
CANDLE OPERA was definitely more of a power metal band than SOLAR EAGLE. Cari had a lot of amazing riffs, I had arrangement ideas and spicing for them. The collaboration worked well.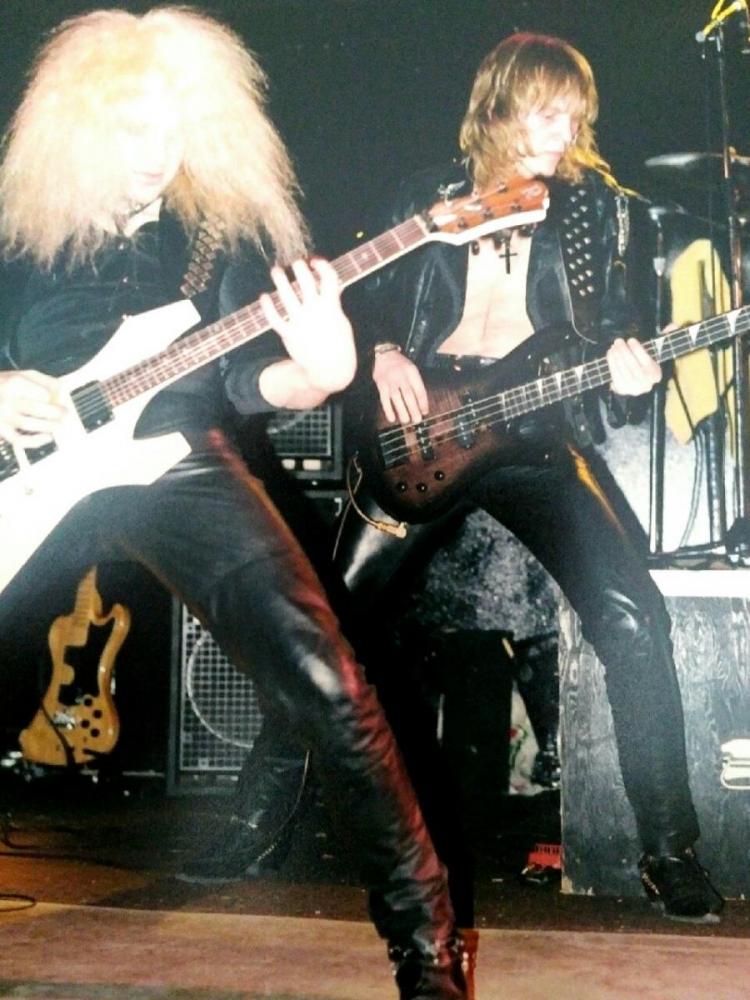 How did you get in touch with Randy Bryte (voc)? Have you already known him from his band NASTY or did you arrange a vocal audition to find a vocalist? Was it easy to find the right singer who had the same approach to your style back then?
We've auditioned a few singers before we found Randy. It was a tough call to find a vocalist for the style of music we were writing. Randy replied to our ad in a magazine. We were lucky and very happy to finally find the right singer.
In late 1992 you started to record your first demo "Dream Theatre"! Please tell me everything you can recall about those recording days!
We recorded the first demo at Studio B in Scarborough with Sean Munawish studio engineer. The band was ready, so the recording went smoothly.
It would be interesting to know why you choose "Dream Theatre" for the demo title! DREAM THEATER reached high success in 1992 with their album "Images And Words" and it was also the first album with James LaBrie on vocals, who as you may know, was born in Toronto too!
It was also Cari who came up with the title. We've learned about the band DREAM THEATRE a short while after our demo was already printed.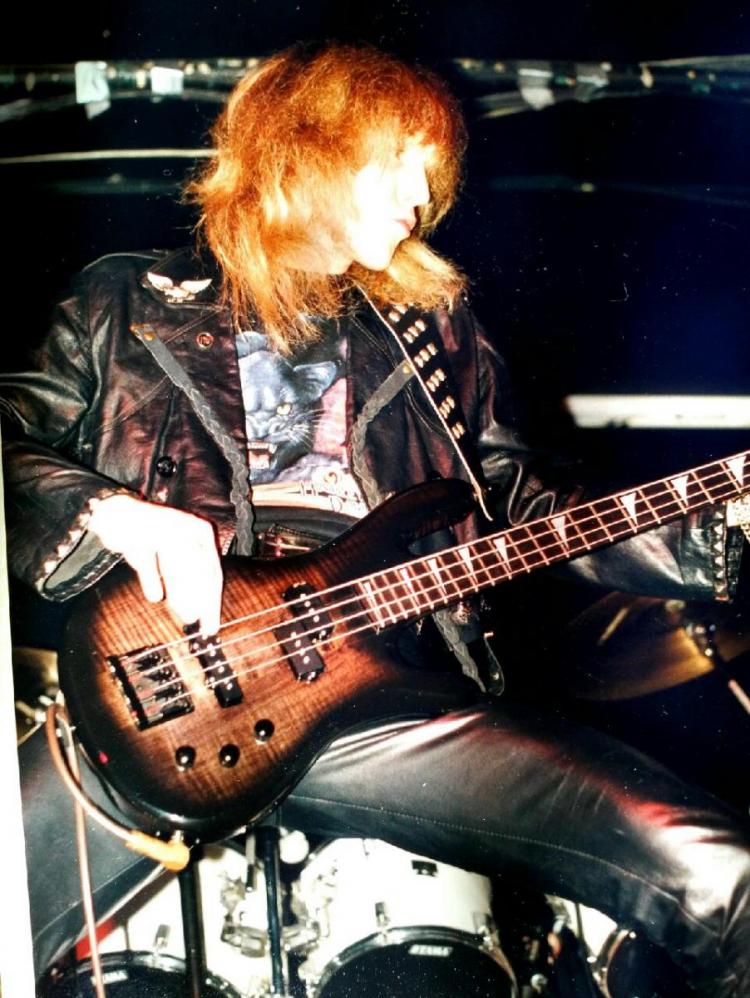 Do you remember how many tape copies were made back then?
I don't remember exactly how many copies were made, I only have a couple of them left.
The early nineties were not the best time for the music you played with CANDLE OPERA. Was it difficult for you to get gigs and attention from the press and fans
at that time? So what happened after the release? Did you tour and did you get the chance to support any popular bands too? Was the purpose of the demo to have something to sell at the shows or did you sent the demo also to labels or magazines? As far as I know, I have never seen a review or article about your band in a European magazine or fanzine. So do you remember if you also got any response from European fans or maybe labels as well?
At the time not too many booking agents supported original metal bands, but thanks to the few we managed to play some good venues. These were mostly promotional shows to get the name out. I don't think we sold any of the demo tapes, they were for promotion, agents, friends and family. I'm sure we've sent a promo package to Europe but I don't remember the response.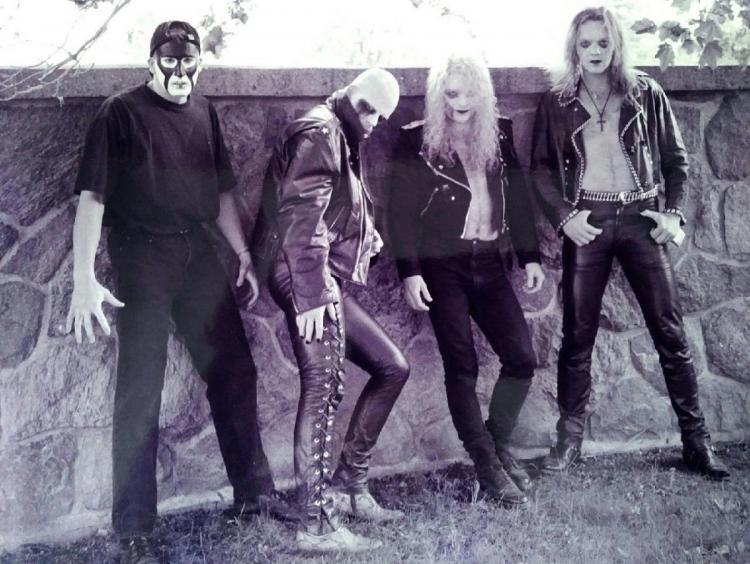 In 1993 you met Robert DiGeoia who also produced and recorded with artists like RUSH, ASIA, APRIL WINE or CELINE DION (to name a few) and you recorded a bunch of new songs with him! Do you remember which songs you recorded with him? Any reason why they were never officially released?
The recording with Robert DiGeoia was a great experience. I believe we recorded 13 songs. We had the drums, bass and rhythm guitar done at Metalworks, then continued with the rest at Phase 1. The mixing took some time and by the time it was done we were without Damien and Rob. I think we were busy trying to find a new drummer instead of working on releasing the newly recorded songs.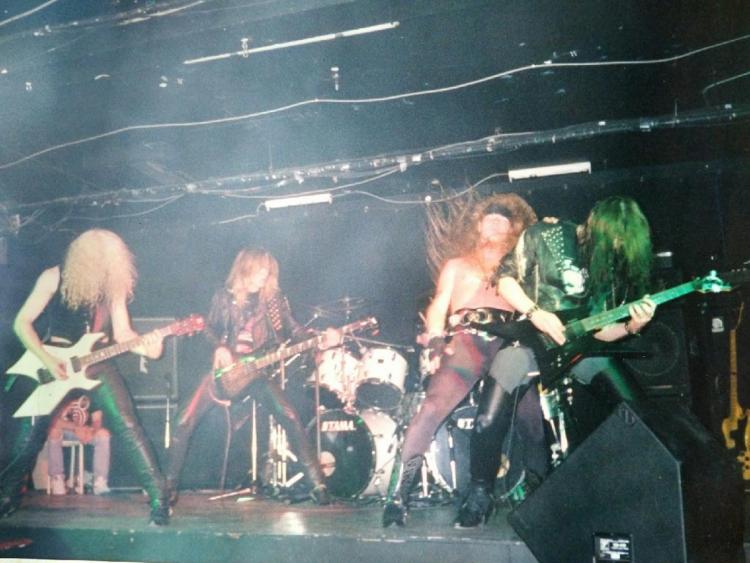 Not long after the recordings Rob (dr) and Damien (git) left the band for personal reasons! How tough was it to lose them both?
It was tough without a drummer for close to 3.5 years. Of course, we were missing the harmonized leads as well. I missed Damien, he was a good and heavy guitarist. We used to jam out some Malmsteen songs and he played them well with the right feel.
Kevan Roy joined as the new guy on the drums but you never replaced Damien, so you looked forward as a four-piece band and you also started to record some new songs but you never finished them! What was the reason and what happened then?
Cari wasn't pushing for a second guitarist at all. We started recording some new songs with our new drummer Kevan Roy, but never finished them. Just a funny thing I remembered…When Kevan Roy auditioned for the band, he played two DREAM THEATRE songs on the drums without the music. So he was definitely the right drummer for us. That was the time when Randy left the band. So there was three of us trying to replace Randy with no luck at all. Kept on writing new tunes and in 2002 recorded some of them. At this time we also recorded "Babylon" and "The killer in me". "The killer…" used to be an instrumental song I wrote in 1986 and jammed it out with a couple of other bands. SOLAR EAGLE was one of them. Some of the last recording titles were: "Corporal Punisher", "Operation Parasite", "Alienation" and "Damnation Strait".
So you never split up the band and still worked together until 2005 when sadly Cari passed away, right? Do you think that this was the end of CANDLE OPERA?
Cari's passing was very sad and of course a big damage to the band. Kevan and I had our hopes in finding a guitarist who would be interested in our style and also could learn the songs. Again no such luck. Then Kevan joined MASTERY and toured with them. I was also asked to join but it was not my cup of tea.
Your music will finally be officially released for the first time on the Greek label "Cult Metal Classics"! What do you think about this? Are you happy to see that there is still interest in the band after all those years? What can we expect from that upcoming release? Do you have any unreleased songs besides the "Dream Theatre" demo which could be used as bonus tracks? There were rumours about thirteen unreleased songs!
I'm very excited about the new release of the old songs. They definitely deserve to be heard by more metalheads than just Toronto and area back in the days. As far as bonus tracks, I'm not sure if unfinished recording would be a good idea. One of the 3 2-inch tapes from the1993 recording got lost years ago. I only have two of them from which I had the 8 songs saved by Sean Munavish who baked them and made a digital copy which later in 2012 got mixed again at Tomatom studio by Tom Eakin. If in the future we could fill in the missing members, it would be a lot of fun to take the good old and the newer songs on a tour. It would be a dream comes true.
Thank you very much for your time! Is there anything you would like to add?
I'm eager to see and hold the new release in my hands. It will make me very, very happy. I'm sure Randy and Kevan will feel the same. I hope some of the old and new fans will be pleased to see and hear the new CANDLE OPERA release.