ΕΠΕΤΕΙΑΚΗ ΕΠΑΝΑΚΥΚΛΟΦΟΡΙΑ ΤΟΥ ALIVE IN ATHENS ΑΠΟ ΤΟΥΣ ICED EARTH
ΕΠΕΤΕΙΑΚΗ ΕΠΑΝΑΚΥΚΛΟΦΟΡΙΑ ΤΟΥ ALIVE IN ATHENS ΑΠΟ ΤΟΥΣ ICED EARTH
Οι Iced Earth θα επανακυκλοφορήσουν σε βινύλιο το Live άλμπουμ του 1999 Alive In Athens στις 6 Δεκεμβρίου, με αφορμή τα 20 χρόνια από την ηχογράφηση και την κυκλοφορία του Live album.
Αρχικά το Live κυκλοφόρησε σε 2πλο και 3πλο CD και Picture LP.
Η κυκλοφορία είχε τεράστια επιτυχία, ο δίσκος έγινε χρυσός στην Ελλάδα, ενώ ηχογραφήθηκαν 30 διαφορετικά τραγούδια στις 2 ζωντανές εμφανίσεις των Iced Earth στο Rodon Club τον Ιανουάριο του 1999.
Η επετειακή έκδοση του Alive In Athens περιλαμβάνει 5 βινύλια (μαύρο, διάφορα χρώματα) 180 γραμμαρίων, ένα 12 σέλιδο booklet με σημειώσεις του Schaffer και του Matt Barlow, ένα ποστερ 60x60.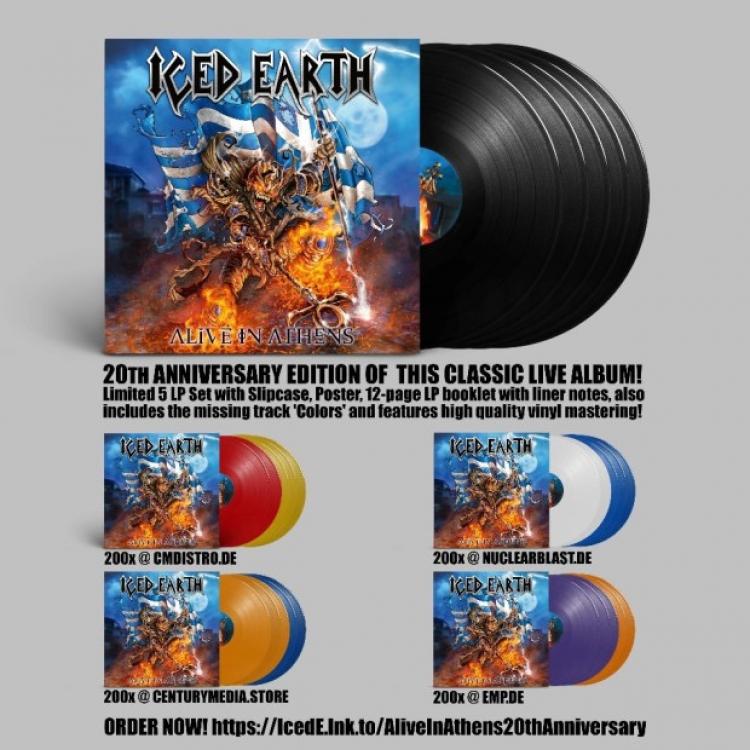 Tracklisting:
Side I
"Burning Times"
"Vengeance Is Mine"
"Pure Evil"
"My Own Savior"
Side II
"Melancholy (Holy Martyr)"
"Dante's Inferno"
Side III   
"The Hunter"
"Travel In Stygian"
"Colors"
Side IV
"Diary
"Blessed Are You
"Violate
Side V                  
"Dark Saga"
"The Last Laugh"
"Last December"
"Watching Over Me"
Side VI
"Angels Holocaust"
"Stormrider"
"The Path I Choose"
"I Died For You"
Side VII    
"Prophecy"
"Birth Of The Wicked"
"The Coming Curse"
Side VIII
"Stand Alone"
"Cast In Stone"
"Desert Rain"
Side IX
"Brainwashed"
"Disciples Of The Lie"
"When The Night Falls"
Side X   
"Slave To The Dark"
"A Question Of Heaven"
"Iced Earth"