BLIND OATH WARN OF "MALEFIC INTENT" WITH "SPECTRAL ATTACK" SINGLE
BLIND OATH WARN OF "MALEFIC INTENT" WITH "SPECTRAL ATTACK" SINGLE
Formed in 2018 in the rusted Bible Belt city of Tulsa, Oklahoma, Blind Oath creates epic-scale traditional metal that erupts with the kind of old-school energy that harkens back to power metal's glory days. The band's lyrical lore is expertly distilled into concentrated Sword & Sorcery tales channeling the hermetic, gnostic, and alchemical, historical accounts of witchery, and epic gothic poems of old. Blind Oath's self-titled debut, recorded with producer -- and Night Demon guitarist -- Armand John Anthony, is set for a March 17 release via Tulsa non-profit Horton Records. Preorder at this location.
In advance of the record's release comes the new single for "Spectral Attack".
"This song is a cautionary tale of malefic intent," warns Blind Oath guitarist Mitch Gilliam. "Tie a rope around your waist, before entering the circle; lest you fall victim to 'Spectral Attack.'"
Blind Oath was recorded at Captain's Quarters studio in Ventura, California. Unbeknownst to the band, heavy metal legends Cirith Ungol were rehearsing next door to the studio, while the group was recording. Ungol frontman Tim Baker took interest in the blaring sessions and was swayed to record a vocal cameo (on the spot!) on the new Blind Oath song, "The Flame," which is about the magick, strength, and beauty of heavy metal community. Baker's surprise appearance, and the expert production of Anthony injected an extra dose of OOMPH to sessions, and the resulting record overflows with golden gallop, frenetic fret sorcery, and fist-pumping, adrenaline-triggering metal. Standout tracks like "Fascinatrix", "Spectral Attack", and the aforementioned "The Flame" reinforce the fact that Blind Oath plays music created BY fans of heavy metal FOR fans of heavy metal.
The band will showcase at the inaugural 2 Minutes to Tulsa Festival on April 1 at Cain's Ballroom where Blind Oath will share the stage with Exciter, Vicious Rumors, Satan, Haunt, Night Cobra, and more. The show will serve as the official 'Blind Oath' album release party.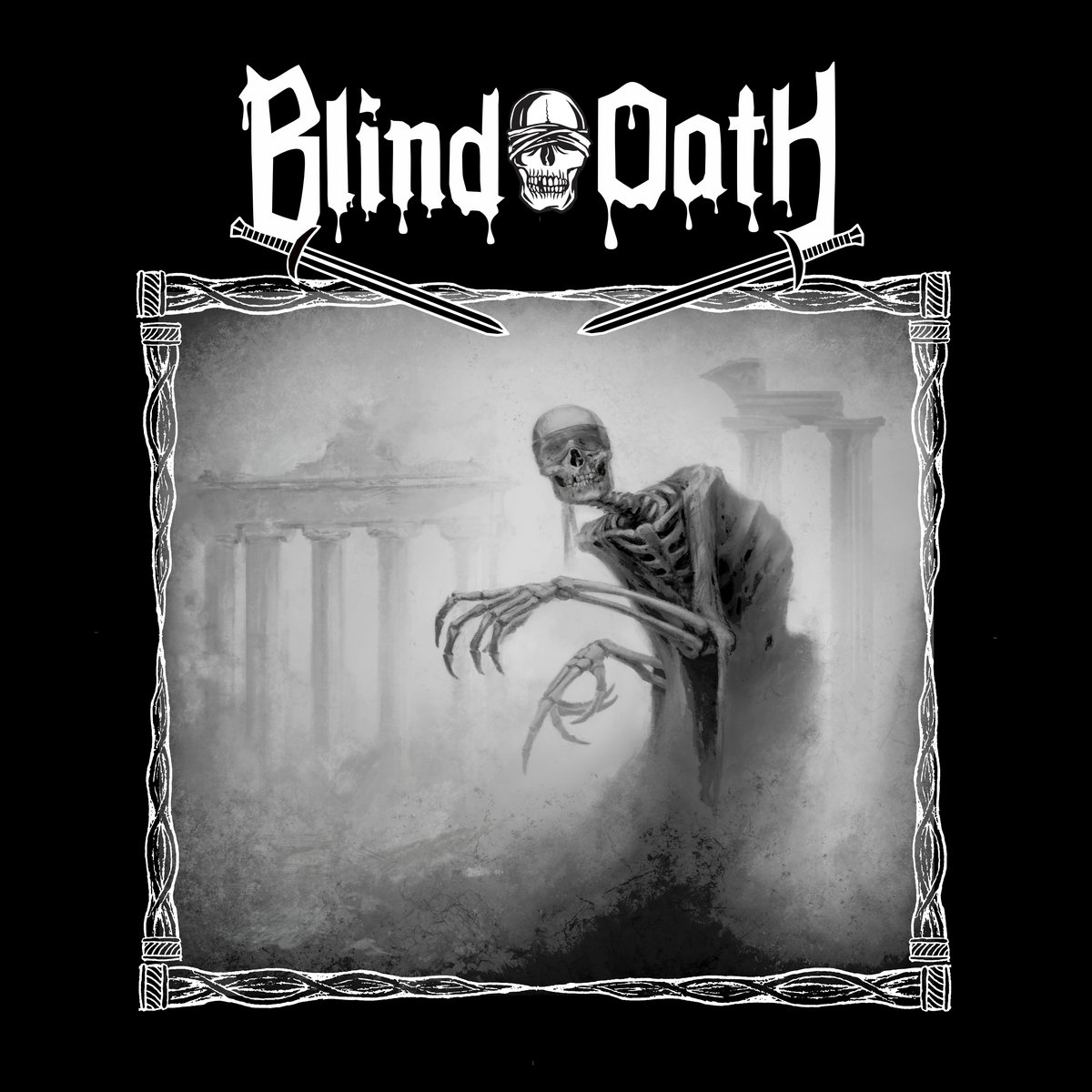 Tracklisting:
"Invocation"
"Emerald Assault"
"Spectral Attack"
"Ride Of Eleanor"
"The Visitor"
"Blind Oath"
"Descent"
"Tombs Of The Blind Oath"
"Fascinatrix"
"The Flame" (feat. Tim Baker)
"Black School"