CUSTARD - "IMPERIUM RAPAX" - COVER, TRACKLIST, RELEASE DATE
CUSTARD - "IMPERIUM RAPAX" - COVER, TRACKLIST, RELEASE DATE
It's almost a tradition that CUSTARD come around the corner with a new work every four to five years. Almost exactly four years have passed since ´A Realm Of Tales´ and the quintet from North Rhine-Westphalia arrives on time with their new round album ´Imperium Rapax´. In fact, his seventh studio album by now. Indestructible? It looks like this!
The band led by singer Olli Strasser meets the high demands of all classic metallers, just like the Powermetal faction. The songs are even more sophisticated, the production more powerful, the implementation more lively than on the celebrated previous albums. This time, the five gentlemen have tackled the topic of the Roman Empire. Battle hymns alternating with deeply emotional moments underline the complexity of the experienced warriors. A positive further development can be attested in every respect. Songs to bawl along in the ranks of the legionnaires adorn the latest work as well as the fragile silence after a lost battle. The dynamic in the songwriting leaves no eye dry and a touch of history wafts through the loudspeakers at home.
With this new collection of songs, CUSTARD will not only be interesting for fans of the Teutonic competition - fans of Blind Guardian, Grave Digger, Rage and the like can strike absolutely blind here - but it will also be of interest to supporters of the British guild, consisting of priests and iron maidens, plenty of material offered. Perfect? Maybe!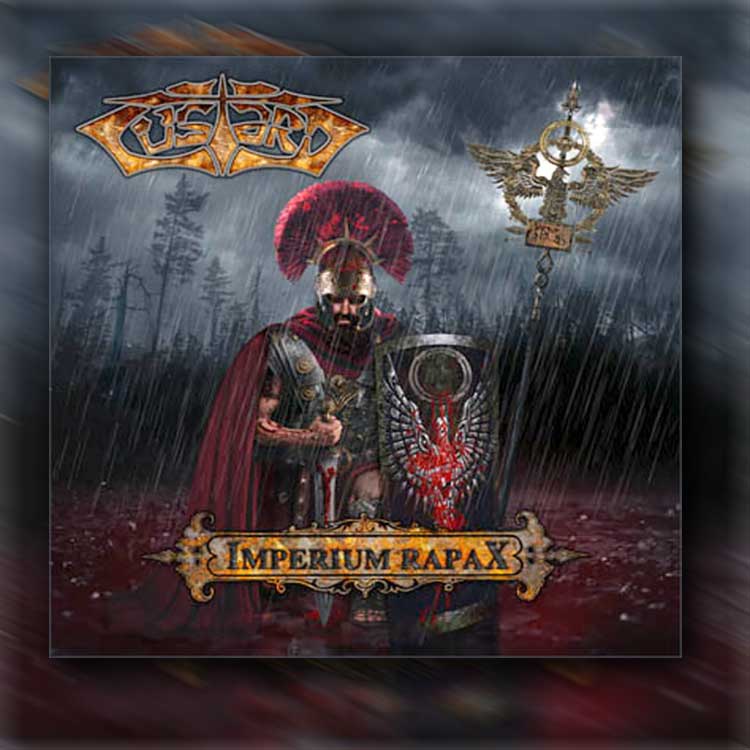 Tracklist:
Imperium Rapax 
Children Of The Wolf 
In Umbra Aquilae 
Res Publica 
Blessed By Baa 
Blood And Sand 
The First Emperor 
Gloria Aegypti 
The Goddess Of Magic And Death 
Cornua Mortis 
Furor Teutonicus 
Ode To The Flames 
Morituri Te Salutant 
Quo Vadis
The release date of the of the new album "Imperium Rapax" by the German Power Metal Band CUSTARD on CD is December 3rd, 2021. The pre-order phase will start on November 26th, 2021 in Pure Steel Shop. 
LINE-UP:
Oliver Strasser – vocals
Carsten "Oscar" Reichart – guitars
Markus Berghammer – bass
Stefan Absorber - guitars
Chris Klapper – drums
special guests:
Marta Gabriel - The Goddess Of Magic And Death – vocals
Athanasios Karapanos - nearly all tracks – vocals
Marinos Tokas – Orchestral Parts and Intros