FORMER LEATHERWOLF MEMBERS TO RETURN WITH NEW HAIL MARY ALBUM IN JULY; "MEDIA LOBOTOMY" SINGLE / VIDEO RELEASED
FORMER LEATHERWOLF MEMBERS TO RETURN WITH NEW HAIL MARY ALBUM IN JULY; "MEDIA LOBOTOMY" SINGLE / VIDEO RELEASED
Southern California metallers Hail Mary features former Leatherwolf members Michael Olivieri, Carey Howe, and Geoff Gayer - better known as the "Triple Axe Attack" - along with bassist Patrick Guyton and drummer Marco Farcone, both formerly Enticier. Debut album Disturbing The Peace was produced and engineered by Tom Fletcher, whose long line of credits include Dokken, Metal Church, Motorhead, Ozzy Osbourne, Scorpions, Yngwie J. Malmsteen's Rising Force, and many more.
The album will be released on July 4th via Eönian Records.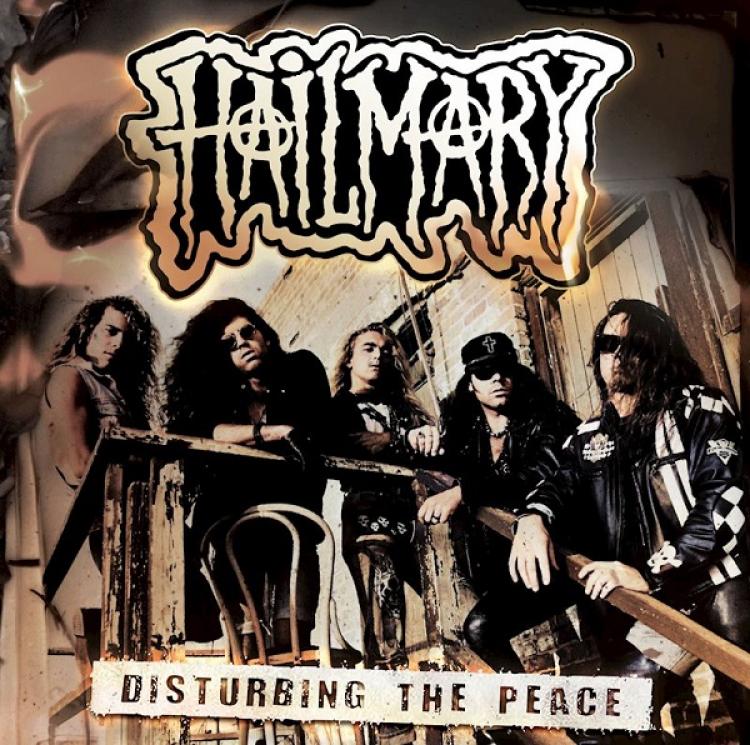 Tracklist:
"Mr. Keeper"
"The Way I Am"
"Media Lobotomy"
"Be My Suicide"
"This Kid"
"Friends"
"Killing My Dreams"
"Crush Of Love"
"D.A.D."
"I Don't Understand" (Demo)
"What's Your Civilization" (Demo)
In 1989, shortly after the release of their third album, Street Ready, the legendary Leatherwolf and their "Triple Axe Attack" of Geoffrey Gayer, Michael Olivieri, and Carey Howe sensed that their rhythm section was becoming indifferent towards the band. The decision was taken by the trio to start afresh and after acquiring the dynamic duo of Marco Forcone on drums and Patrick Guyton on bass, continued to work and perform as Leatherwolf until legal issues arose with a former bandmate over the name.
 
This rift caused the quintet to seek out a new moniker and feel the need to throw the long-ball into the end zone, the re-birth of Leatherwolf as Hail Mary was used as the launchpad to thrust the band into a new musical direction. With fists clenched and a relentless "take no prisoners" attitude, Hail Mary, would either live triumphantly or leave a hell of a scar trying.
 
Calling Huntington Beach, California home, Hail Mary, saw the raw energy from a lot of the new bands coming through as a refreshing change to the bombastic glitter of the eighties, but this outfit also had another weapon in their armory - a rabid existing fanbase. In fact, when the line-up of Leatherwolf that would go on to become Hail Mary booked their 'return' performance, the show at the Marquee Club in Westminster, California would break records.
 
Having put out mountains of fliers for the show with just the venue, date, and a line-up photo, but no actual band name, when Geoffrey, Michael, Carey, Marco, and Patrick arrived on the day of the gig, they were shocked to see that the line to get in was wrapped completely around the building, five people deep. And that was only those who couldn't gain entry due to the sold-out venue already being overfilled to capacity. Amazingly, the amassed throng outside stayed to listen through the walls, and that night The Marquee ended up shattering its all-time attendance record, which had formerly been held by Skid Row.
With a fearsome live reputation, Hail Mary would regularly delight its fans at venues such as the world-famous Roxy Theatre, The Troubadour, Madame Wong's, The Whisky a Go-Go, and of course The Marquee, which was virtually their second home. When not thrilling audiences, rehearsing, or keeping the bar staff at The Marquee on their toes, Hail Mary, could, of course, be found with a bucket of wallpaper paste as they plastered fliers for their upcoming shows all over town. And with the band highly respected throughout Orange County, which had long supported Leatherwolf, it was only a matter of time before they became regulars on KNAC Radio and local TV. With magazines such as BAM, Screamer, and RAW all getting behind them, all Hail Mary lacked to take them over the top was that ever-elusive record deal.
With a dozen A&R reps being regular at their shows, the five-piece entered talks and even went into pre-production with both Epic Records and MCA. But with grunge acts becoming more and more prevalent on every label's roster, both pulled the plug on Hail Mary halfway through recording. The band did, however, track multiple pro demos, including a development deal with Epic Records alongside producer Tom Fletcher and 'E' from For the Record. However, the breakthrough never did quite materialize in the way their music was deserved and the core guitar trio of the band instead reformed the much-loved Leatherwolf in 1999.
Looking back now it could be said that Hail Mary was ahead of its time and maybe that explains why it's taken the best part of thirty years for this outstanding album to see the light of day.