HAMMERFALL PRESENT LYRIC VIDEO FOR REMIXED & REMASTERED VERSION OF "RIDERS OF THE STORM" FROM 20TH ANNIVERSARY EDITION OF CRIMSON THUNDER
HAMMERFALL PRESENT LYRIC VIDEO FOR REMIXED & REMASTERED VERSION OF "RIDERS OF THE STORM" FROM 20TH ANNIVERSARY EDITION OF CRIMSON THUNDER
In 2023, Swedish power metal legends, HammerFall, are celebrating the success of Crimson Thunder achieving Platinum status in Sweden. Continuing their retrospective series, the band will be releasing their very own 20th Anniversary edition via Nuclear Blast on April 28.
Their fourth studio album has been remixed and remastered by Fredrik Nordstrom, and this definitive version will include previously unreleased pre-production tracks, a brand-new medley and live acoustic songs.
Today, a new lyric video for the remixed and remastered "Riders Of The Storm" makes its debut. Watch the clip below.
Frontman Joacim Cans comments on the song: "This mid tempo, riff based song instantly became a live hit for both the band and the fans. I just love it when the crowd starts to jump in the beginning when the beat kicks in! Even though the lyrical theme is a bit on the dystopian side there is a positive vibe and energy, with a feeling of hope, within the music. A feeling of hope that eventually also can be found in the lyrics."
Guitarist Oscar Dronjak previously stated: "There is a lot to look forward to with this release even if you're a die hard Templar with everything already in your collection: brand new album remix by Fredrik Nordström, never-before heard preproduction bonus tracks, exclusive acoustic live versions, this anniversary edition is packed with unique stuff that sees the light of day for the first time. This is our biggest anniversary edition yet!"
Crimson Thunder 20th Anniversary Edition comes in following formats:
- Digital Album
- 3CD Digi Box
- Platinum Edition - 2LP Trifold Silver Vinyl
- Crimson Edition - 2LP Trifold Marbled Red /Black Vinyl
- Thunder Edition - 2LP Trifold Marbled Blue/White/Black
Listen/pre-order here.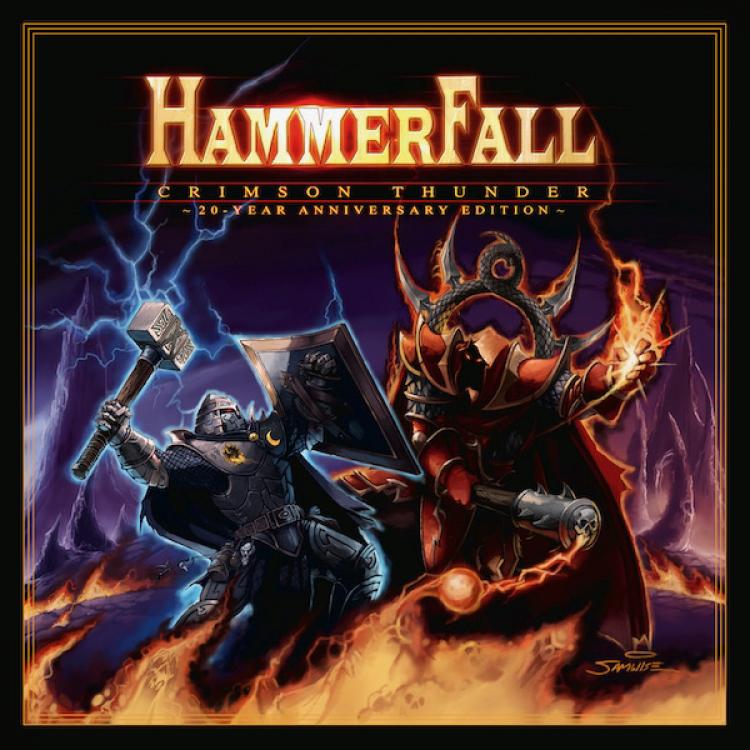 CD tracklisting:
CD 1
"Riders Of The Storm"
"Hearts On Fire"
"On The Edge of Honour"
"Crimson Thunder"
"Lore Of The Arcane"
"Trailblazers"
"Dreams Come True"
"Angel Of Mercy"
"The Unforgiving Blade"
"In Memoriam"
"Hero's Return"
"Riders of The Storm" (preproduction)
"On The Edge Of Honour" (preproduction)
"Trailblazers" (preproduction)
"Angel Of Mercy" (preproduction)
"The Unforgiving Blade" (preproduction)
"Hero's Return" (preproduction)
"Hearts On Fire" (preproduction)
CD 2
"Lore Of The Arcane" (Live One Crimson Night)
"Riders Of The Storm" (Live One Crimson Night)
"Heeding The Call" (Live One Crimson Night)
"Stone Cold" (Live One Crimson Night)
"Hero's Return" (Live One Crimson Night)
"Legacy Of Kings" (Live One Crimson Night)
Bass Solo (Live One Crimson Night)
"At The End Of The Rainbow" (Live One Crimson Night)
"The Way Of The Warrior" (Live One Crimson Night)
"The Unforgiving Blade" (Live One Crimson Night)
"Glory To The Brave" (Live One Crimson Night)
Guitar Solo (Live One Crimson Night)
"Let The Hammer Fall" (Live One Crimson Night)
CD 3
"Renegade" (Live One Crimson Night)
"Steel Meets Steel" (Live One Crimson Night)
"Crimson Thunder" (Live One Crimson Night)
"Templars Of Steel" (Live One Crimson Night)
"Hearts On Fire" (Live One Crimson Night)
"Hammerfall" (Live One Crimson Night)
"The Dragon Lies" Bleeding (Bonus Track Live One Crimson Night)
"Stronger Than All" (Bonus Track Live One Crimson Night)
"A Legend Reborn" (Live One Crimson Night)
"Heeding The Call" (acoustic live version)
"Steel Meets Steel" (acoustic live version)
"Renegade" (acoustic live version)
"Crimson Thunder Medley" (Live)