NIGHT DEMON DEBUT "BEYOND THE GRAVE" MUSIC VIDEO
NIGHT DEMON DEBUT "BEYOND THE GRAVE" MUSIC VIDEO
Ventura, California's heavy metal institution, Night Demon, have released a video for "Beyond The Grave", from their third full-length, Outsider, out now via Century Media Records. Watch below.
Jarvis Leatherby (vocals/bass) comments: "'Beyond the Grave' marks a pivotal moment in the Outsider album. This concept record follows a storyline, and here our main character finds himself in a dire situation, having to confront the darkest aspects of his own psyche. It's an ode to waging war and making peace with our own alter egos. The music video builds on these themes. We explore the darker aspects of ourselves, expressed on screen through magickal ritual and dark mirror gazing. We're immensely proud of this next single and video, and we hope it strikes a chord with our fans."
For more than a decade, Night Demon have defiantly flown the flag of traditional heavy metal, unwavering in the face of shifting industry trends and unscarred by global calamities. With new album Outsider, the band have challenged themselves musically and lyrically, pushing creative boundaries and evolving their sound far beyond their NWOBHM-worshipping origins into something truly singular.
Order here.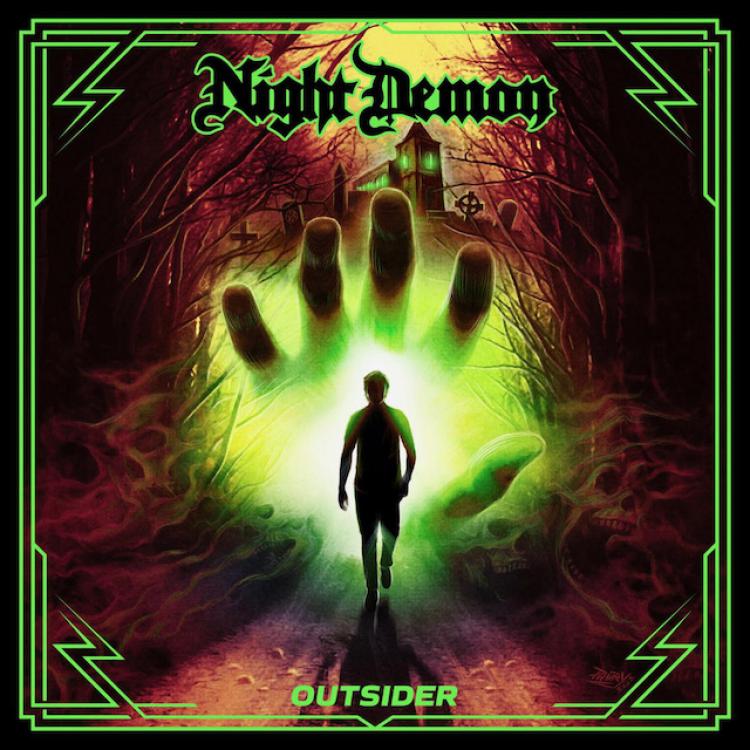 Outsider tracklisting:
"Prelude"
"Outsider"
"Obsidian"
"Beyond The Grave"
"Rebirth"
"Escape From Beyond"
"A Wake"
"The Wrath"
"The Last Day"
Night Demon lineup:
Jarvis Leatherby - Vocals / Bass
Dusty Squires - Drums
Armand John Anthony - Guitars