SWEET & LYNCH RELEASE "MIRACLE" SINGLE AND MUSIC VIDEO
SWEET & LYNCH RELEASE "MIRACLE" SINGLE AND MUSIC VIDEO
Sweet & Lynch, the musical union of vocalist/guitarist Michael Sweet (Stryper, Iconic) and guitarist George Lynch (Lynch Mob, The End Machine, ex-Dokken), have have released a second single from their upcoming third album, Heart & Sacrifice, out May 19.
The combination of Sweet's powerful, high-octane vocals and Lynch's immediately recognizable guitar heroics once again prove to be an unbeatable combination sure to please the hard rock faithful.
"Miracle" is now available to stream on all digital music services. Watch the video below:
"I'm very pleased with the outcome of the new Sweet & Lynch album, Heart & Sacrifice. It's diverse, complex and flows beautifully. Every song has something to say in its own unique way. George has always been one of my favorite players and it's an honor to work with him again. It's also an absolute pleasure working with Alessandro. We're able to bring all our own contributions and contribute to create an amazing set of songs and I couldn't be happier with the results. Get ready for Heart & Sacrifice!," says Michael Sweet.
Sweet & Lynch first emerged with their debut album, Only To Rise, in 2015. The album cracked the Billboard Top 200 and came in at #6 on the Top Hard Rock Albums, #17 on Independent Albums, #18 on Top Rock Albums, and #4 on Christian Albums charts.
Their sophomore album, Unified, followed in 2017, landing at #53 Top Current Albums, #13 Top Current Rock Albums, and #8 Record Label Independent Current Albums on the Billboard charts. While plans for a third album were always on the table, the project went on a slight hiatus while the guys concentrated on their other musical endeavours. 2022 proved to be the year where the creative juices for Sweet & Lynch began to flow again and work on what would ultimately become Heart & Sacrifice began.
Alessandro Del Vecchio, who co-produced this release with Michael Sweet, plays bass on the album, while Jelly Cardarelli (Lalu) plays drums.
Michael Sweet helms the Grammy-nominated Christian hard-rock outfit Stryper, which he co-founded more than 35 years ago, as the band's vocalist, guitarist, and main songwriter. To date, the band has more than 10 million career album sales worldwide. The venerable band ascended to prominence in the 1980s with Billboard Top 40 charting singles like "Calling On You", "Honestly" and "Always There For You" and has in more recent years enjoyed an unparalleled career renaissance, delivering arguably the best albums of their storied career, including their 2022 album, The Final Battle.
Michael has released multiple solo albums, including a self-titled release in 1994, which yielded five No. 1 singles, Truth in 2000, the critically acclaimed 2015 project I'm Not Your Suicide (peaked at No. 10 on Billboard's Hard Rock albums), and 2019's Ten, which reached No. 4 on Billboard's Top Christian Albums chart. He recently partnered with Joel Hoekstra (Whitesnake), Nathan James (Inglorious), Marco Mendoza (Thin Lizzy, Whitesnake), and Tommy Aldridge (Whitesnake, ex-Ozzy Osbourne) in the supergroup Iconic, which was greeted with much adoration by rock fans around the globe.
George Lynch emerged from the '80s hard rock scene with the L.A. based group Dokken and went on to become a world renowned guitarist. Aside from Dokken, he also enjoyed great success with Lynch Mob, the group he founded after leaving Dokken.
Lynch has gone on to become a prolific (that is an understatement, to say the least) music creator, continuing with Lynch Mob, releasing solo albums, and a wealth of collaborative efforts over the decades. Those include, but are not limited to, KXM with dUg Pinnick (King's X) and Ray Luzier (Korn), The End Machine with Jeff Pilson (Foreigner, ex-Dokken), Mick Brown (ex-Dokken), and Robert Mason (Warrant), Sweet & Lynch with Michael Sweet (Stryper), Ultraphonix with Corey Glover (Living Colour), Dirty Shirley with Dino Jelusick (Animal Drive, Trans-Siberian Orchestra), The Banishment with Joe Haze, and many more.
Pre-order Heart & Sacrifice here.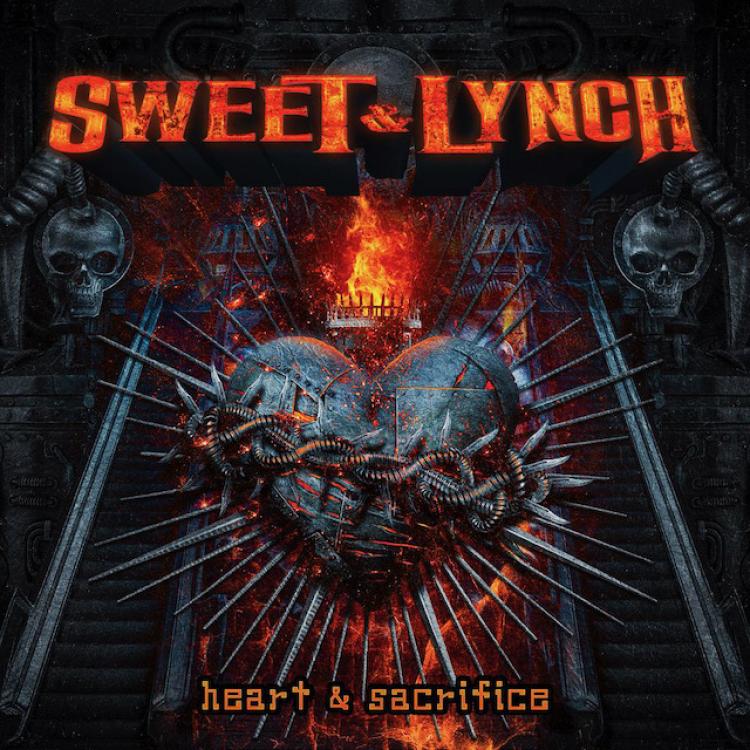 Heart & Sacrifice tracklisting:
"Heart & Sacrifice"
"Where I Have To Go"
"Miracle"
"Leave It All Behind"
"You'll Never Be Alone"
"After All Is Said And Done"
"Give Up The Night"
"Will It Ever Change"
"It's Time To Believe"
"Every Day"
"It Rains Again"
"World Full Of Lies"
Sweet & Lynch are:
Michael Sweet – lead vocals, guitars
George Lynch – lead guitars
Alessandro Del Vecchio – bass
Jelly Cardarelli - drums
- Produced by: Michael Sweet & Alessandro Del Vecchio
- Executive Producer/A&R: Serafino Perugino