25 YEARS METAL ADDICTION - THE RARE & THE UNRELEASED COMPILATION
25 YEARS METAL ADDICTION - THE RARE & THE UNRELEASED COMPILATION
For a quarter of a century, AFM Records has dedicated itself to delivering high class metal and hard rock. Numerous chart successes and international awards pave the way. On the occasion of the company's 25th anniversary, the label was trawling through its archives, and numerous (previously unknown) treasures were unearthed. The result will see the light of day on October 29 in the form of 25 Years Metal Addiction - The Rare & The Unreleased.
As the title suggests, only songs have been taken into account that were previously unpublished, came as bonus material from territory-exclusive editions (e.g. Japanese pressings) or were previously only available digitally. A fine selection of those tunes was now gathered on this comprehensive, entertaining compilation. However, thinking of leftovers or "rejects" would be totally misleading here; rather, the quality of the contributions is consistently surprising and one wonders again and again how these pearls have been withheld from the metal world so far.
25 Years Metal Addiction - The Rare & The Unreleased, which comes as 2CD in a digipak (and at a special price), finally crosses the finish line after 30 songs and almost 140 minutes of playing time. The slightly different compilation - for real metal fans and collectors.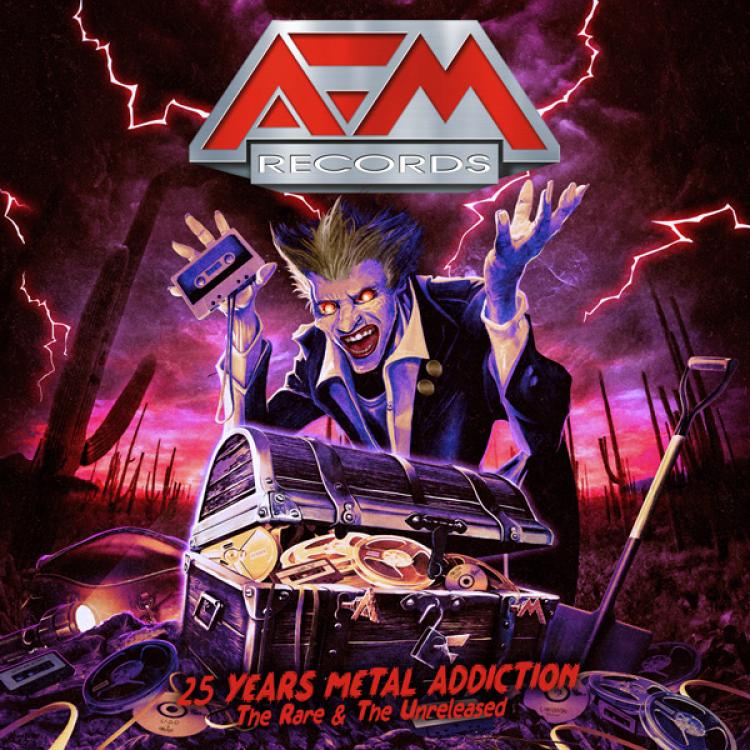 Tracklisting:
CD1:
U.D.O. - "Falling Angels"
Firewind - "New Found Power"
Evergrey - "The Darkness In You"
Metalite - "Hunting High And Low" (Stratovarius Cover)
Emil Bulls - "Night Over Disneyland"
Bloodbound - "Bloodheads United"
Orden Ogan - "Fields Of Sorrow" (Orchestral Version)
Elvenking - "No Prayer For The Dying" (Iron Maiden Cover)
Dragonland - "At The Inn Of Éamon Bayle"
Mors Principium Est - "Livin' La Vida Loca" (Ricky Martin Cover)
Dead City Ruins - "Devil Man" (2019 Version)
Herman Frank - "Forever"
Ross The Boss - "Blood Of My Enemies" (Manowar Cover)
Nostradameus - "Voyager"
Solution .45 - "Spirit Side Dreaming"
CD2:
Flotsam And Jetsam - "Life, Love, Death"
Dynazty - "Prestige"
Lordi - "Hulking Dynamo"
Shakra - "I Want It"
Brainstorm - "The Kindred Soul"
Deaf Rat - "Like A Prayer" (Madonna Cover)
Arion - "Punish You" (Radio Edit)
At Vance - "The Evil In You" (re-recorded)
Iron Mask - "March Of The Slaves"
Paradox - "Timegrain"
Evidence One - "Wait Up For More"
Burning Point - "Ton Of Bricks" (Metal Church Cover)
Serious Black - "I Show You My Heart"
Pyramaze - "World Foregone" (Orchestral Version)
Epysode - "Forgotten Symphony" (Extended Mix)