ICARUS WITCH RELEASE "10,000 LIGHT YEARS FROM HOME" SINGLE AND LYRIC VIDEO; NO DEVIL LIVED ON ALBUM DUE IN 2023
ICARUS WITCH RELEASE "10,000 LIGHT YEARS FROM HOME" SINGLE AND LYRIC VIDEO; NO DEVIL LIVED ON ALBUM DUE IN 2023
Pittsburgh, Pennsylvania's long-running traditional metal veterans, Icarus Witch, have released a banger of a new single, "10,000 Light Years From Home", as well as a captivating lyric video for the anthem. With this sci-fi-themed single, the band provides a glimpse into their futuristic folklore concept album slated for 2023 through Cleopatra Records.
The animated video takes place in a dystopian future, created in part with AI, set to an explosive trad metal track called "10,000 Light Years From Home". This song was road-tested on festival stages around the world this year and showcases the first studio recording released by the band since 2018's critically acclaimed LP, Goodbye Cruel World. The single marks another milestone for the band as it's part of their first concept album, No Devil Lived On, which will be released next year.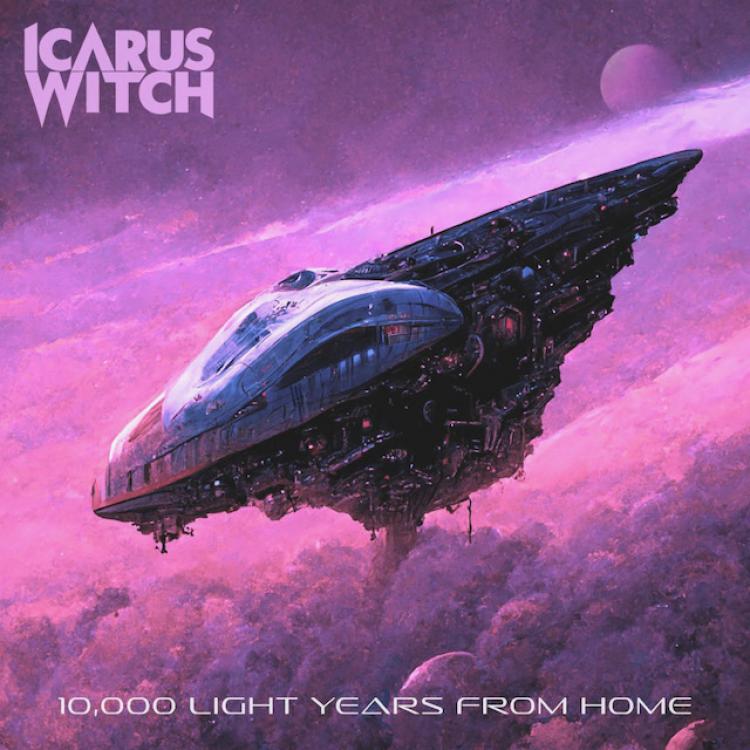 Founding member Jason Myers sets the scene, "Though written at the height of the global pandemic, the messages in '10,000 Light Years From Home' ring truer today than ever before. The lyrics are taken from the ship's log of a crew on a doomed space voyage. The story takes place in the near future when an elite group of global government officials as well as several of the world's wealthiest business leaders, and foreign royals take flight on a mission to escape the planet they helped decimate while seeking to colonize new worlds to satiate their egos and personal fortunes. Will these intergalactic robber barons accomplish their selfish cosmic agenda, or will the prophecy of Gaia's mysterious occult council prevail? Tune in to find out."
Featuring a guest spoken word section by Paul Messerle, the guitars and bass for "10,000 Light Years From Home" were recorded by Quinn Lukas at QL Audio, and the vocals and drums were recorded by Andrew D'Cagna at Sacred Sound Studio. The song was mixed and mastered by Brad Cox at Black Paw Studios. Aubrianna Myers handled the graphic design while Jason Myers produced the video using Midjourney AI illustrations animated by Emre Alan.
"10,000 Light Years From Home" is also available on all major streaming services today including Spotify, Apple Music, Amazon, and more.
Watch for updates on Icarus Witch's impending No Devil Lived On album to post in the months ahead.
Icarus Witch lineup:
Andrew D'Cagna - vocals
Quinn Lukas - guitar
Jason Myers - bass, synthesizer
Noah Skiba - drums