ODINFIST STREAMING "METALMANCER" SINGLE
ODINFIST STREAMING "METALMANCER" SINGLE
Hailing from British Columbia's Okanagan Valley in Canada, Odinfist is a high-flying, guitar-playing, crowd-chanting traditional heavy metal band that's been around for 16 years, bringing elements of power metal, thrash metal, and the new wave of British heavy metal together. They've already amassed seven albums and now they are adding Remade In Steel to their impressive discography. The second single is "Metalmancer". Drenched in classic '80s metal riffs with some hair metal influences in the verses, the lyrics describe a protagonist as they're being exposed to new ideas and how they can forge a new path in life. 
The guitar solos are fucking sick, boys, Odinfist explains, they continue:
"This one is unique because it has completely different riffs for the first verse and second verse, and both riffs make a reappearance at the end of the song. The chorus is a pretty simple, but driving riff, with one of Justin's patented melodies over top. There's a big, stompy, half-time feel breakdown in the middle that leads into a gnarly solo section. While the song structure isn't totally conventional, it's still a catchy, rockin' tune with a melodic, shout-along chorus."
The band continues to share that over the course of their musical careers, they've always prioritized making music that they enjoy and want to listen to first. Each album is a snapshot of where they were mentally, creatively, and socially– but they've always wanted to explore new spaces within the genre and try to push into places they hadn't been before. "Remade in Steel" is true to Odinfist's roots in traditional heavy metal, offering its listeners the same energy and sound that they've come to expect from the band, but still shows off the band's love for discovery.
Saucy, melodic, and barbaric. Get ready to take a roller coaster ride through the twists and turns of traditional heavy metal. Odinfist is recommended for fans of Savatage, Riot City, and Eternal Champion.
Remade In Steel is due out on March 10 and can be preordered on Bandcamp.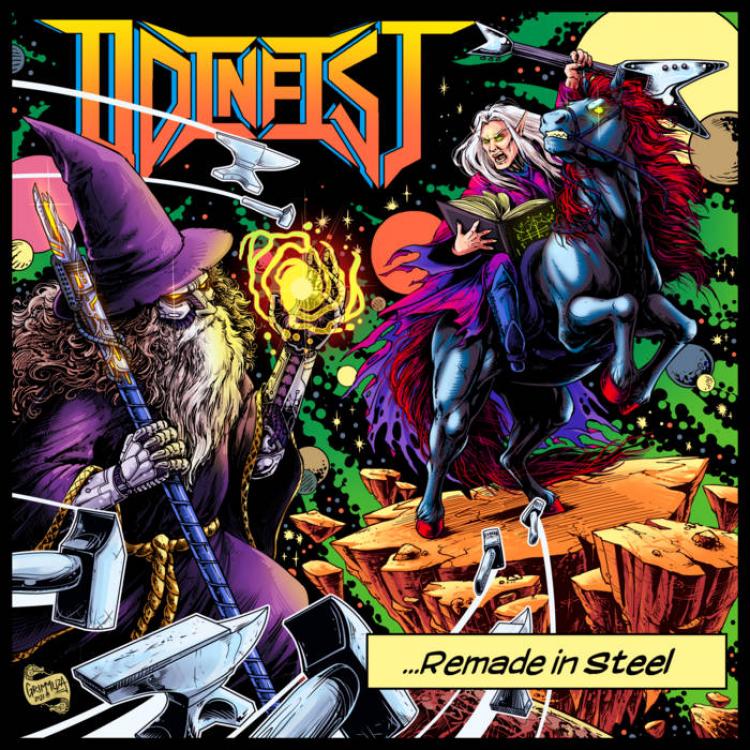 Tracklisting:
01. Riffmaster
02. Metalmancer
03. Remade In Steel
04. Allfather
05. Deadline
06. Masquerade