PARADOX RELEASE THEIR NEW ALBUM 'HERESY II - END OF A LEGEND' ON SEPTEMBER
PARADOX RELEASE THEIR NEW ALBUM 'HERESY II - END OF A LEGEND' ON SEPTEMBER
When the thrash metal classic "Heresy" was released in 1990, the world was different. The internet was nearly unknown. Mobiles were as big as buffalo bones. Wacken Open Air was a party for the village louts. These are stories from a long forgotten time. But Charly Steinhauer and his band Paradox are still here and release the upcoming thrash classic "Heresy II – End of a Legend" with a brand new line-up.
You can pre-order (Digipak, ltd. Vinyl) here: https://shop.afm-records.de/paradox/
The roots of Paradox go way back to 1981. After several changes of names, Paradox was born in 1986. The debut "Product of Imagination" (1987) was like a fresh breeze blowing through the scene, the concept album "Heresy" was an international success and catapulted Paradox into the first league of cult thrashers. More than 30 years later, it's time for the eighth studio album "Heresy II – End of a Legend".
 
To create a worthy successor, frontman Charly Steinhauer gathered round a very special line up. Guitar wizard Christian Münzner and long time bass player Olly Keller are back after a break of one album. On the drums we have Paradox co-founder Alex Blaha. The last album he played on was "Heresy", and now he is back in the bosom of the family. And we have Peter Vogt who was the man behind the lyrical concept of the first two Paradox albums. He wrote the story of the crusade of the Catholic Church against the schismatic Cathars in the 13th century. And this tale isn't over yet.
 
Musically and lyrically, "Heresy II – End of a Legend" starts where the first part ended in 1990. The opener 'Escape from the Burning' shows some lightning fast riffs, due to the voice of Charly, the song is catchy as hell. In a different way from other bands, Paradox stands true to their style. Heavily influenced by the first three Metallica albums, the Bavarian outfit found and improved their sound decades ago. Other examples for this thesis are the complex "Journey into Fear", the majestic semi-ballad "A Meeting of Minds", "Priestly Vows" which resembles slightly of Testament's riffing, or "A Man of Sorrow" with its addictive guitar riffs. The icing on the cake is a cover version of the legendary Metal Church instrumental "Merciless Onslaught". Guitarist Christian Münzner reaches more than once the technical limits with his solos and leads and refines the ideas of Charly Steinhauer with various sophisticated musical creations.
The album was produced by Steinhauer himself, the mastering was done by Hannes Grossmann in MordorSound Studio in Veitsbronn. The sound follows the lyrics, appears to be dark and menacing, but very transparent at the same time. Old school meets new production techniques. Paradox (nomen est omen) succeed in sounding nostalgic and modern at the same time. Last but not least, no-one less than Travis Smith (Opeth, Nevermore) was recruited for the impressive cover artwork.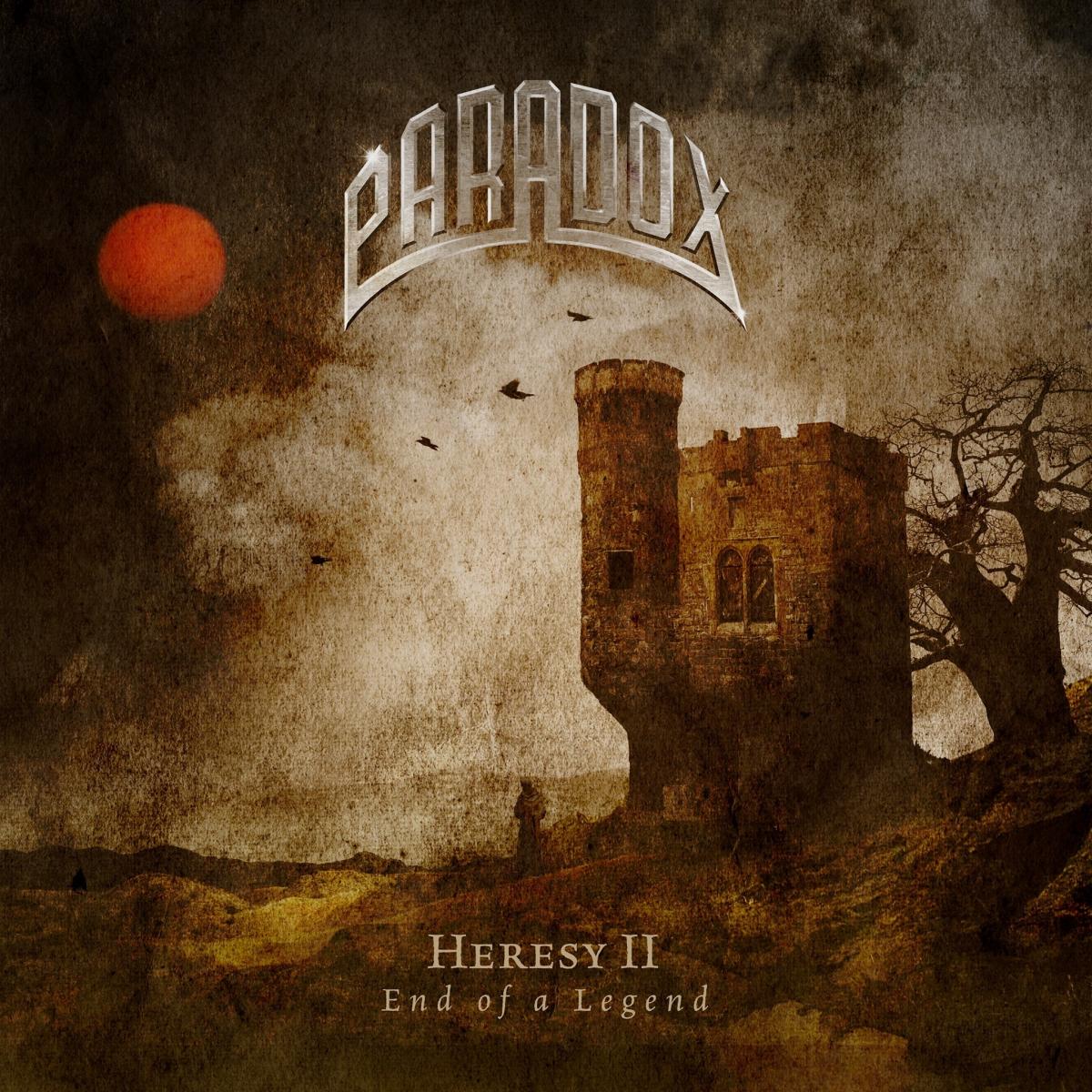 Tracklist:
01 ESCAPE FROM THE BURNING
02 MOUNTAINS AND CAVES
03 THE VISITORS
04 CHILDREN OF A VIRGIN
05 JOURNEY INTO FEAR
06 BURYING A TREASURE
07 A MEETING OF MINDS
08 PRIESTLY VOWS
09 UNHOLY CONSPIRACY
10 A MAN OF SORROW ( PROLOGUE)
11 A MAN OF SORROW
12 THE GREAT DENIAL
13 END OF A LEGEND
Paradox Members
Charly Steinhauer (Guitar)
Christian Münzner (Guitar )
Olly Keller (Bass)
Axel Blaha (Drums)