PLATINUM on Heaven and Hell Records
PLATINUM on Heaven and Hell Records
Formed in 1983 after singer Vincent Jiovino (Vincent James) and drummer Donald Siudmak (Don Versailles), wanting to go a different direction musically, would split from their previous band SS STEELE.
The duo would take the band's bassist with them and later add lead guitarist Mitch Ryzuk (R J Mitchell). Siudmak and Jiovino immediately started collaborating full time on original material. The band would begin to gig throughout the Tri-State area presenting a glam metal image typical of the time, full of pyrotechnics and spectacle. As buzz grew throughout the circuit PLATINUM would decide to add rhythm guitarist Dean Ferriola in 1987, becoming a five-piece squad. Around this time the band would replace their bass player Mike Paradisis (Mike Michaels).
The band would soon record their first demo. They would also film a promotional video for the track 'In the Middle of the Night'.
In 1988 PLATINUM entered Penny Lane Studios to lay down new tracks, the following year they would self-release their 4-song debut EP "Here to Fight". Relentless promotion would follow seeing the EP sent out to magazines and fanzines around the world, soon fanmail would begin to pour in with glowing reviews following.
PLATINUM would then see a line-up change with the exit of lead guitarist Ryzuk just a few months before them getting signed to German label Rising Sun Productions. He would be replaced by Vic LeCar for the debut album "Iceman" recorded in December of 1990 at Chalet Studios in Ontario, Canada. The album would be released by Rising Sun Productions on vinyl and CD in the U.S., Europe and by King's Ind. on cassette in Indonesia. Much promotion would follow both in the U.S and abroad seeing the band doing radio interviews and live shows throughout Europe. During this time the band's image would also be evolving to more coincide with the power metal directions the bands had always been going.
After the release of "Iceman", PLATINUM would record a few new pre-production tracks at Siudmak's Hell's Kitchen Music Commercial Production Studio in New York City the same studio they recorded their 2nd EP titled simply "Platinum" Two years prior. 'Living High', 'Don't Let Me Walk Away' and 'Put Your Body Next to Mine' were the first of the post "Iceman" tracks they laid down.
PLATINUM returned to Hell's Kitchen Music to record more material over the next year or so. Those additional tracks include 'Casualty of War', 'Cool Fire', 'Bought and Sold' and 'Oppressions Touch'.During this period they would also lay down pre-production tracks for their anticipated 2nd release for Rising Sun Records.
PLATINUM also recorded nine new tracks live at SST (Studios, Systems and Transport) Soundstage in Weehawken, NJ. These tracks were a one-take live recording and encompass the majority of the tracks never before released.
In November of 2020, Heaven and Hell Records will be reissuing PLATINUM's 1990 debut "Iceman", remastered in a limited special edition. The release will also include, for the first time on CD the 'Here to Fight' EP with additional bonus tracks. Packaged with a 20-page booklet including original Federico Castelluccio cover art, complete lyrics, photos and a very extensive band history essay.
The label will also be releasing a second CD titled "VANITAS" that will include the never before released 13-tracks mentioned above, all remastered. Packaged with full-colour booklet including complete lyrics and artwork once again provided by famed artist Federico Castelluccio
Both releases are limited to 500 units worldwide and are scheduled for a late November release.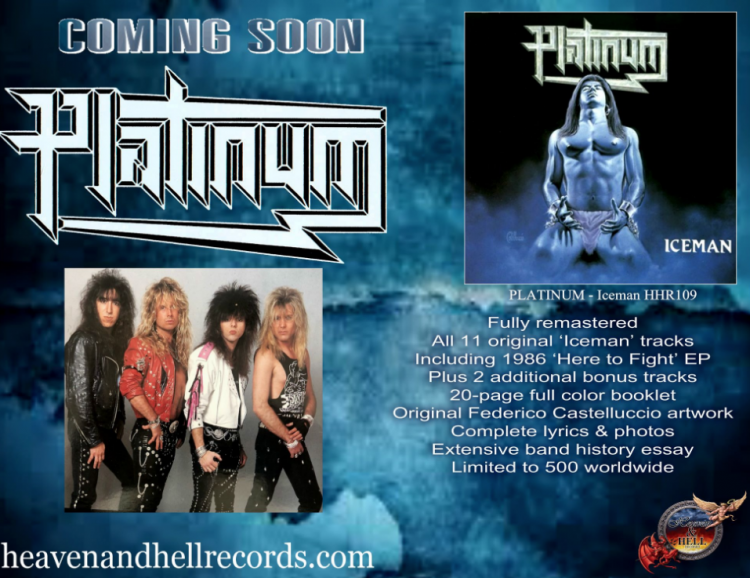 Tracklist 
PLATINUM - Iceman HHR109
Iceman
Blind Lead the Blind
Freedom Fighters
Still in Love with You
Straight Through the Heart
Here to Fight
Clock Strikes Twelve
Give It All You Got
Cut Me Loose
Middle of the Night
Do Ya
Here to Fight
Rock Myself to Sleep
Clock Strikes 12
Middle of the Night
Don't Let Me Walk Away
Put Your Body Next to Mine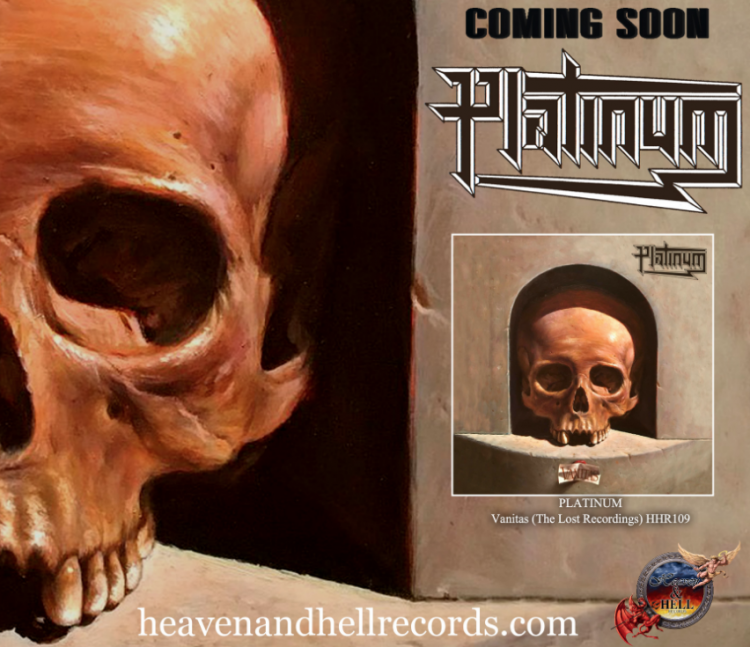 PLATINUM - Vanitas (The Lost Recordings) HHR110
Till Death Do Us Part
Beckoning
No Stranger
Feel Me
Someday
Urgency
Gone with the Season
Hell Cries
Cool Fire
Oppression's Touch
Bought and Sold
Casualty of War
Livin' High