SCREAMACHINE TO RELEASE CHURCH OF THE SCREAM ALBUM IN MAY; "THE CRIMSON LEGACY" MUSIC VIDEO STREAMING
SCREAMACHINE TO RELEASE CHURCH OF THE SCREAM ALBUM IN MAY; "THE CRIMSON LEGACY" MUSIC VIDEO STREAMING
Riff-tastic Italian metallers, ScreaMachine, have announced the upcoming release of their second full-length studio album, Church Of The Scream, on May 12. This molten metal album serves as a follow-up to their self-titled debut released via Frontiers Music Srl in 2021. This will be the first full-length album to feature the band's new guitarist Edoardo Taddei, who made his debut on the band's Borderline EP.
A new single and video, "The Crimson Legacy" is out today. Watch the video below, and pre-order/save Church Of The Scream here.
Hailing from Rome, Italy, ScreamMachine is a driving heavy metal force whose blazing sound is inspired by titans like Judas Priest, Metallica, Savatage, and Accept. Even if the guys from ScreaMachine are in love with that legendary 80's metal sound, they are not living in the past. Their aim is to deliver an aggressive and traditional heavy metal sound blended with a modern production and songwriting. The members of the band are certainly no strangers to the metal scene, as respected Italian acts like Stormlord, Kaledon, and Lunarsea, all of whom have been active since the '90's with wide discographies and hundreds of gigs under their belts, appear on their collective resumes.
Their self-titled debut album, which featured guest appearances from Steve Di Giorgio (Testament, Death, Iced Earth, Spirits Of Fire, etc.), Herbie Langhans (Firewind, Avantasia, Sonic Haven), Simone Mularoni (DGM), Massimiliano Pagliuso (Novembre), Andrea Angelini (Stormlord), and Francesco Mattei (Noveria), was a red hot stake in the ground to firmly establish themselves as wavers of the traditional heavy metal flag.
In 2022, the talented shredder Edoardo Taddei, one of the younger rising guitar heroes of current times, joined the band for the recording of the band's first EP, Borderline. The EP, intended as a treat for fans while they waited for the new full-length album, features four songs including the blazing title track, which has an accompanying music video, and an acoustic version of the single "The Metal Monster" featuring Michele Guaitoli (Visions Of Atlantis, Temperance) from their debut album.
Their new album, Church Of The Scream, further cements ScreaMachine's status as enduring metal warriors. The sound of the band has developed, yet remains loyal to their roots. Ten brand new hymns of loud, including the crushing heavy metal music like the majestic "The Epic Of Defeat" featuring Davide "Damna" Moras (Elvenking) on guest vocals, the furiously energetic title track, and the metal anthem "The Crimson Legacy", will have you worshipping at the altar of the Church Of The Scream.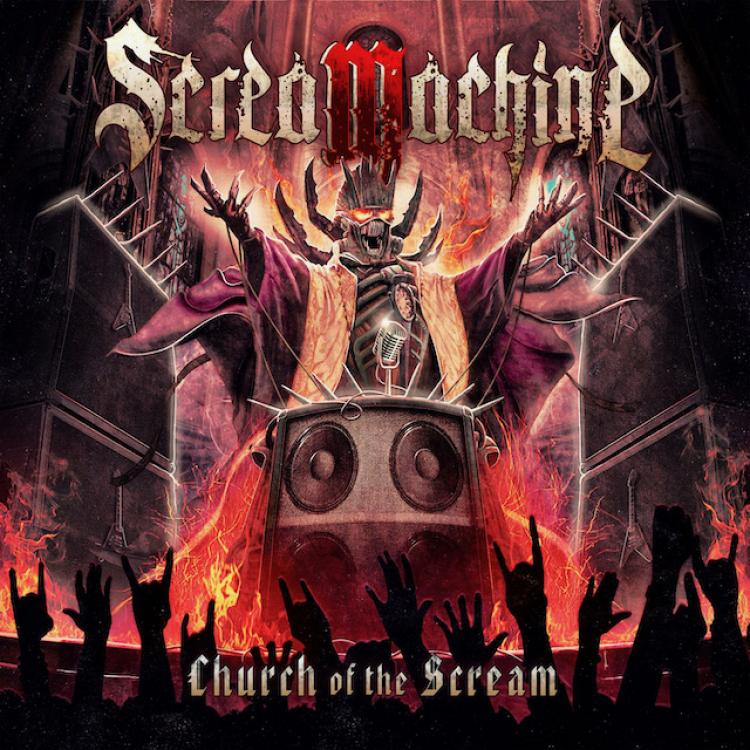 Church Of The Scream tracklisting:
"The Crimson Legacy"
"Church Of The Scream"
"Night Asylum"
"Revenge Walker"
"Met(H)Aldone"
"Flag Of Damnation"
"Occam's Failure"
"Pest Case Scenario"
"Deflagrator"
"The Epic Of Defeat"
Lineup:
Valerio "The Brave" Caricchio - Vocals
Francesco Bucci - Bass
Edoardo Taddei -  Lead Guitars
Paolo Campitelli - Rhythm & Lead Guitars
Alfonso "Fo" Corace - Drums