TWILIGHT FORCE RELEASE ORCHESTRAL VERSION OF "SKYNIGHTS OF ALDARIA"
TWILIGHT FORCE RELEASE ORCHESTRAL VERSION OF "SKYNIGHTS OF ALDARIA"
Four weeks after the release of their latest opus At the Heart Of Wintervale, and the successful completion of a European tour just a few days ago, Swedish symphonic power metallers Twilight Force now release their new single "Skyknights Of Aldaria (Orchestral Version)". The song, which appears as the first bonus track on the new album, is an instrumental version of an album track. 
It also features adjusted balancing and arranging, with a new mix tailored specifically for the orchestral version, giving the song a completely new and unique flair. An epic extension, which slots perfectly into the anthems of the Twilight Kingdoms.
Twilight Force comments:
"Greetings traveler! Twilight Force has now returned to our abodes after a successful and magically glorious tour! Over the course of more than three weeks, we journeyed far and wide, and experienced triumphant battles in a plethora of kingdoms around the mortal plane! But new adventures already await! We are very happy to announce that we are now releasing the orchestral version of 'Skyknights Of Aldaria' upon the digital realm, which will give you a great opportunity to enjoy more details and intricacies in the orchestral arrangements. There are numerous instrumental elements lurking in the periphery of the symphonic soundscapes, and we hope that you will find new and exciting surprises therein. 
"So come, and join the mythic eagle riders on their quest to defeat a nefarious sorcerer. Let us soar through the skies and end the night of a thousand days together!"
At The Heart Of Wintervale consists of 8 captivating tales from far and wide, and will have a running time of approximately 45 minutes. The songs are all stories and legends from the Twilight Kingdoms, gathered over years of meticulous research, and will further explore and delve into the vast and magical world of its realms.
At The Heart Of Wintervale is available on CD, Digibook, and Vinyl. The limited Digibook edition will also include three bonus tracks. The first one is a song that many of Twilight Force's loyal knights may somewhat recognize; it is an acoustic blend of some of the older works, featuring an entrancing vocal performance and guitar work by Twilight Force's very own wood elf Aerendir. The second and third bonus tracks are orchestral versions of two songs from the album, where fans will have the opportunity to experience a different soundscape, and perhaps discover new exciting elements and intricacies never discerned before.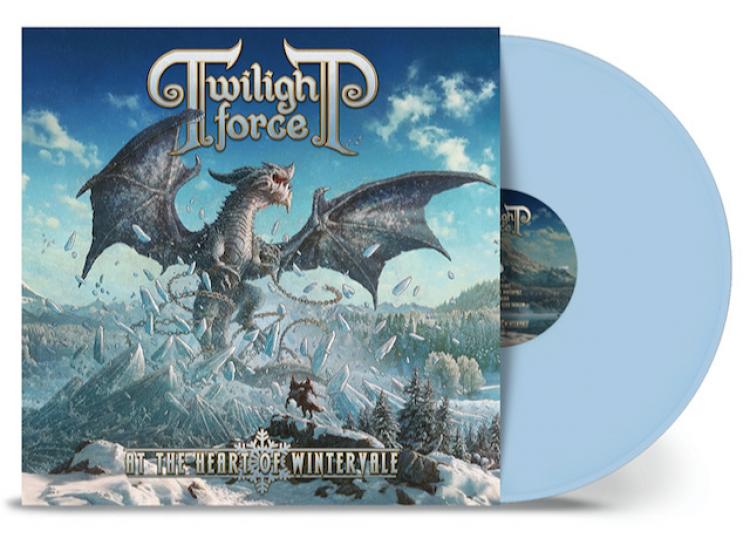 At The Heart Of Wintervale tracklisting:
"Twilight Force"
"At The Heart Of Wintervale"
"Dragonborn"
"Highlands Of The Elder Dragon"
"Skyknights Of Aldaria"
"A Familiar Memory"
"Sunlight Knight"
"The Last Crystal Bearer"
At The Heart Of Wintervale digibook tracklisting:
"Twilight Force"
"At The Heart Of Wintervale"
"Dragonborn"
"Highlands Of The Elder Dragon"
"Skyknights Of Aldaria"
"A Familiar Memory"
"Sunlight Knight"
"The Last Crystal Bearer"
"The Sapphire Dragon Of Arcane Might Is Back Again"
"Skyknights Of Aldaria" (orchestral version)
"The Last Crystal Bearer" (orchestral version)